Hall of Fame Inductees
See our latest inductees listed below! Click on any inductee's name to learn more.
We apologize for the poor quality of some older inductee photographs. We are working to correct this as soon as possible.
Interested in submitting a nomination? Please click here to learn how »
---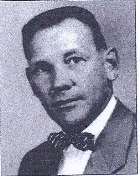 Charles M. Byron
(Community Service)
1910 – 2006
Charles Michael Byron was born in Meriden, Conn., February 26, 1910. The son of William and Kate (Burke) Byron, "Charlie" attended local schools, including trade school from 1926 to 1928, and became a factory worker. When WWII began, he joined the U.S. Army at age 31. During his wartime tenure, he earned a California high school diploma which he took with him to the China-Burma warfronts. Upon his return to Meriden, he entered Arnold College (now the University of Bridgeport) and earned a bachelor's degree, followed by a master's, from the University of Hartford in 1953. He began his career as Director of Physical Education at Lincoln Middle School and, after 33 years in the Meriden school system, retired in 1976.
He has been actively involved as a volunteer in many organizations, particularly those related to physical fitness and to helping the disabled. He is the founder of "Special Day for Special People" – an annual event – and the developer of the program known as "Helping Elderly People" (HEP). In 1979 he received a citation from the State of Connecticut for his efforts, followed by the Salvation Army's "The Others Award" for his work on behalf of the elderly and disabled. A member of the Governor's Commission on Physical Fitness, Byron has written a children's book, The Story of Rags – the proceeds from which go to people with cancer or with disabilities. Byron founded the "A Week To Remember" program, which subsequently became a statewide program.
He and his wife, Rae, are the parents of two children, both of whom became teachers and his family continue to reside in Meriden.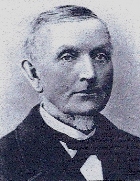 Lemuel J. Curtis
(Philanthropy)
1814 – 1888
Lemuel J. Curtis was born in Meriden, Conn., in 1814. He was the son of Elisha and Abigail (Hall) Curtis. He and his family lived on Curtis Street in Meriden in a home built on farmland owned by his grandfather, Benjamin Curtis. He attended school until he was 16, and then became apprenticed to Ira Yale of Wallingford to learn the britannia ware business. In the mid-1830s, Curtis became associated with his brother, Edwin, and they manufactured britannia ware in Meriden for a few years. In 1852 the Meriden Brittania Company, which would later become part of the International Silver Company, was formed. Over time, Curtis became one of Meriden's most prominent industrialists and one of its most compassionate philanthropists.
He served as a director of the Meriden National Bank. For many years Curtis was a senior warden of St. Andrew's Episcopal Church and one of its staunchest supporters. He founded the Curtis Home, the first building of which was dedicated in 1884 as a home for children. Later, in 1896, another building opened to provide a home for elderly ladies. Curtis died in 1888, and left the bulk of his estate as an endowment to support the Curtis Home. The Curtis Home has served children with special needs for decades, and today continues to serve the elderly. Its expanded facilities, services, and programs are a lasting testament to its founder and, in turn, his personal commitment to the Meriden community. Descendants of Lemuel J. Curtis continue to reside in the Meriden area.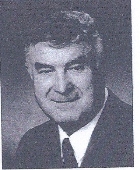 Siro R. Toffolon
(Art)
1932 –
Siro R. Toffolon was born in Meriden, Conn., April 5, 1932. Educated in local schools, he studied and graduated from Wilcox Technical School in 1951. He also attended Meriden High School, where he took morning classes while attending afternoon classes at Wilcox.
Following his graduation from Wilcox, he went to work for the International Silver Company, Meriden, as a designer and created his first accepted commercial design. Thus began a career that catapulted him to global recognition as one of America's most renowned designers of silverware, jewelry, antique guns, and clocks. He has more than 450 silverware designs to his credit. Toffolon's career spanned more than 30 years at International Silver – as an employee until 1967 and then as a consultant. Since the 1970s he continues to work as a freelance designer, and has created flatware patterns for Gorham, Reed & Barton, Stanley Roberts, and Lunt. During his time at International Silver, he studied with some of the world's great designers in France, Italy, Germany, and Denmark. Toffolon's best known sterling pattern is Masterpiece; other famed sterling patterns include Pine Spray, DuBarry, and La Strada. He was involved in a number of local organizations, including a stint as president of the Meriden Historical Society. He has long been involved with the Metropolitan Museum of Art, New York City; the Winterthur Museum, Delaware; and is a member of the Kentucky Rifle Association. Toffolon has designed more than 300 clocks, many for the famed Seth Thomas Clock Co. His design work is also represented in the collections of the Remington Arms Co., Cambridge Silversmiths, Lenox, Oneida, Krementz Jewelry, among others. In 1984, Toffolon designed an antique-filled Connecticut riverfront home in Old Lyme, where he and his wife, Ellen Ann, currently reside.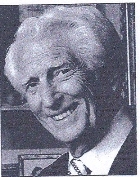 Warren M. Stephan
(Performing Arts)
1922 –
Warren M. Stephan was born in Meriden, Conn., July 10, 1922. The son of Mathilda Conner and Joseph P. Stephan, he was educated in local schools and graduated with high honors from Meriden High School in 1940. He continued his education at Laurel College of Business in Meriden.
Stephan had a varied business career which included operating his own homemade candyshop, the "Kandy Kettle," in locations on Hanover Street, in Upham's Department Store, and on Colony Street under the name, "Grampa's Kandy and Krafts." He also enjoyed a 42-year career with the Phoenix Mutual Life Insurance Company, Hartford. In 1953, Stephan married Almira F. Forster, and they became the parents of four daughters: Wendy, Tracey, Melanie, and Tammy.
Stephan is probably best known to Meriden residents as a volunteer activist and performer. While still in his teens, he hosted a weekly radio program called "The Melody Merchant," and was a regular on the New Haven television show, "Joe's Place." Stephan became a popular entertainer throughout Connecticut and New England; he had his own orchestra and also toured with Al Gentile's "Big Band." In addition, Stephan worked as a Cruise Director aboard the Carla C for some time before returning to Connecticut.
In 1992, Stephan co-founded the Castle Craig Theater troupe. The Castle Craig Players, as they are now known, performs in its own downtown theater in Meriden and has attracted audiences from both Meriden and surrounding communities. Stephan has directed and produced the majority of the Castle Craig Players' productions, and has been a leader in the Meriden Arts Council and in developing plans for revitalizing the downtown area as an arts and culture destination.