Hall of Fame Inductees
See our latest inductees listed below! Click on any inductee's name to learn more.
We apologize for the poor quality of some older inductee photographs. We are working to correct this as soon as possible.
Interested in submitting a nomination? Please click here to learn how »
---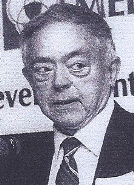 Carter Hixson White
(Media)
1916 – 2000
A graduate of Meriden High School (1934), Harvard University (1938) and Harvard Law School (1941), Carter H. White was a practicing attorney in Meriden from 1942-1952. He served as a Meriden state senator from 1947 to 1948 and was the City's corporation counsel from 1947-1950.
He began his association with the Meriden Record Company, his family business, in 1949 as general counsel, becoming general manager in 1953; executive vice-president and publisher in 1967; president in 1972 and chairman in 1974. Mr. White retired as publisher of the Record-Journal in 1988 and remained as chairman until 2000.
Throughout his life, Mr. White served his country, state and community. He was a War Department lawyer and U.S. Navy Seaman First Class during World War II.
He was also a lecturer in journalism at the University of Hartford. He was a member of the State Safety Commission. He was best known in Hartford, however, through the fight for open government and freedom of information that led to the enactment of a state open records law in 1957 and the Freedom of Information Act in 1975. Mr. White was chairman of the Connecticut Council of Freedom of Information in 1957 when the open records law was signed.
Mr. White held many civic posts in Meriden during his lifetime including president of the Meriden Boys Club; trustee of the YMCA; incorporator of Meriden Hospital; director of the City Savings Bank of Meriden; the United Fund; and Family Service Association. He was a founder of the Meriden Daffodil Festival and founded the Meriden/Wallingford Campership Fund, which provides summer camp for needy children.
He was former chairman of the board of trustees and board of directors of the First Congregational Church of Meriden, as well as a lay moderator at the church. Mr. White was also a member of the Meriden Rotary Club; the Home Club; the American Legion and the Sigma Delta Chi journalism fraternity.
Mr. White was a former director of the Meriden and Connecticut Chambers of Commerce and for ten years the chairman of the Meriden Chamber Business Development Committee. He was past president of the Connecticut Daily Newspaper Association; Connecticut Council on Freedom of Information and New England Daily Newspaper Association; and a director of the International Press Institute's American Committee.
He served as a director of the Home Bank and Trust Co.; the Napier Co. (for a total of forty years); the Thompson Candy Co.; and the Meriden Industrial Development Corp. Mr. White received the Meriden Eagles Club Good Neighbor Award in 1975; the Meriden Falcon Alumni Citizen of the Year Award in 1978; and the Meriden Economic Development Corp. Keystone Award in 1990. Also in 1990, he received the Stephen Collins Award for Freedom of Information from the Connecticut Council on Freedom of Information; the Yankee Quill Keystone Award and the Pride in Meriden Award. He was voted a 1997 Meriden Sportsman of Distinction.
A resident of Meriden since 1922, Carter Hixson White was born in Manistique, Michigan on June 7, 1916. He was the son of Allan H. White and Blanche Hixson White Smith. He married the former Barbara Comstock of West Medford, Massachusetts on September 14, 1940 and the couple have three children: Alison W. Muschinsky; Leslie J. White; Eliot C. White. They have five grandchildren: Allan H. Church; Bodin Muschinsky; Evon Muschinsky; Melinda Garlock and Elizabeth White. Carter Hixson White died May 22, 2000.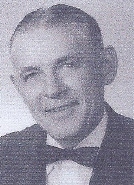 Ernest B. Kuhn
(Community Service)
1900 – 1973
Born in Germany in 1900, Ernest Kuhn immigrated to Connecticut sometime before WWII, bringing his mother after he had settled. Later, he met and married Selina "Sally" Chapman and they made their home in Meriden. As his mother became older and more infirm, she could no longer be left alone. Sally opened a small daycare center, enrolling four children. It was she who cared for her mother-in-law along with the pre-school youngsters. Ernie became involved in the daycare center, building play structures for the children's enjoyment.
In the early 1960s there were no vocational employment opportunities available to persons with disabilities. Once out of school, disabled persons most likely remained at home. For those whose families could no longer care for them, large residential institutions were the norm. Hundreds of individuals were housed in the Mansfield and Southbury Training Schools – both operated by the State of Connecticut.
When Ernie's mother died, Sally closed her day care center and they moved to another home in Meriden. Ernie, a group of volunteers and a special education teacher decided to open a center for older boys at their former home on Liberty Street. Not all parents were in favor of the program, however, since many believed their child's disability was a private matter. Ernie and the others continued their campaign, knocking on doors and offering parents a special place where their children could learn and work.
The fledgling organization was incorporated in June 1962 as the Regional Training Center. Mr. Kuhn left his professional position as a millwright at International Silver to work with the young men. He told a reporter, "Someone had to do it!" Mr. Kuhn wanted to "be sure these fellows would have a chance to go out" (into the world to work).
In 1973, the workshop relocated to the Central CT Regional Center on Undercliff Road in Meriden. In honor of Mr. Kuhn's diligence and commitment, the center was re-named the E.B. Kuhn Regional Training Center and Workshop.
Ernie Kuhn remained active with the organization until his death on Christmas Day, 1973. Workshop participants who knew him remember him well today. They characterized Ernie as "…being tough, but you knew what he wanted. Mr. Kuhn expected a certain behavior, and he got it." One parent quoted in the Morning Record said, "Sometimes he was stern; sometimes demanding, but he always got the best for them (participants)."
Kuhn Services relocated to a new site on Pratt Street in 1976 to increase their capacity, offering even greater program options. The agency became known as the Kuhn Employment Opportunities, Inc. in the 1990s. In 2005, the Kuhn agency purchased a new Meriden location and facility to further develop and grow program services.
Mr. Kuhn was indeed a man of vision and action. His spirit of commitment continues to live today enabling all people to be valued in the community, independent in their lives and proud of themselves.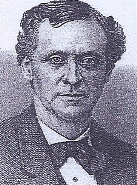 Isaac C. Lewis
(Art)
1812 – 1893
Born in Wallingford, Connecticut in 1812, Issac C. Lewis began his manufacturing career at fifteen when he was accepted as an apprentice pewterer with Hiram Yale. After Yale's death four years later, Mr. Lewis joined Lewis & Holt (Patrick Yale's firm – brother of Hiram Yale) as a lathe operator. In 1834, at twenty-two years of age, Issac Lewis opened his own shop – the I.C. Lewis Company. This began a career that would ultimately lead to his company becoming part of Meriden Britannia Company, which included companies owned by George R. Curtis, Lemuel J. Curtis, Horace C. Wilcox and W.W. Lyman. Mr. Lewis became President of the Meriden Britannia Company, and served the firm for many years as it became one of the largest silver companies in the world.
Mr. Lewis died in 1893, but five years later, Meriden Britannia Company formed the International Silver Company. Mr. Lewis, prominent philanthropist of the time, owned a building on the comer of East Main and Veteran Streets, which he gifted to the City of Meriden to be used by the Meriden City Missions (the predecessor of the Public Health and Visiting Nurses Association and the City's Welfare Department). The building would later be known as the Century Building. This building was demolished in December 1993, some 100 years after the death of Issac C. Lewis.
Mr. Lewis served as a Justice of the Peace; he was a member of the City Council; he also served as mayor from 1870 -1872. Issac Lewis furthered his involvement by serving in the State Legislature in 1848, 1853 and again in 1866. Other positions held by Mr. Lewis included President of the Meriden Trust and Safe Deposit Company; President of Miller Brothers Cutlery.
Mr. Lewis sat as a Director for the Meriden National Bank; the Meriden Savings Bank; the Home Club; Wilcox Silver Plate Company; the Edward Miller Company and the Wilcox and White Organ Company.
Mr. Lewis also contributed a major portion of the $100,000 cost for the construction and establishment of a trust fund for St. Paul's Universalist Church.
Mr. Issac C. Lewis' East Main Street mansion is currently the site of the Szymaszek – Taylor Funeral Home.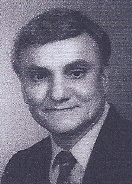 John F. Papandrea
(Law/Government/Military)
1934 –
John F. Papandrea was born on August 2, 1934 in San Giovanni di Gerace, Calabria, Italy. He immigrated to the United States with his family three years later. John received his education in Meriden, where he and his family settled, and graduated from Meriden High School in 1952. He graduated cum laude from Fairfield University in 1956 and he received his law degree from the University of Connecticut School of Law in 1959. In 1960, he married Marianne J. Petrus and the couple have three children: Ann-Marie, Mary-Rose and John, Jr. They also have two grandchildren, Giovanna and Joseph.
For many years, Mr. Papandrea practiced law in Meriden, specializing in real estate and family law. He was elected to the Meriden City Council in 1962, and while on the Council, he served as Minority Leader, Majority Leader and Deputy Mayor. In 1966, John was elected to the Connecticut Legislature, where he served three (3) terms. While in the legislature, he served as Assistant Majority Leader, Deputy Majority Leader and Counsel to the Majority; in 1969, his fellow legislators selected him as Connecticut's "Most Effective Legislator."
Mr. Papandrea returned to state government in 1983. From 1983 through 1987, he served as Chief of Gambling Regulation in the Department of Special Revenue. Then, from 1987 until 1991, he was Commissioner of the Connecticut Department of Housing, Chairman of the Connecticut Housing Finance Authority ("CHFA") and CHFA's Mortgage Committee and the Council of State Community Affairs Agencies ("COSCAA"), serving as National Chairman of COSCAA from 1990 to 1991. He was also Chairman of the Governor's Blue Ribbon Housing Task Force from 1987 through 1988 and Chairman of the Meriden Visions Housing Committee from 1992 through 1996. In 1994, John was elected Judge of Probate for the District of Meriden. In that position, he continued to serve the people of Meriden until his retirement in 2004.
Throughout his career, Mr. Papandrea has been extraordinarily active in civic affairs. In addition to holding political office, he served on numerous Meriden Charter Revision Commissions and was chairman of those commissions in 1975, 1976, 1977 and 1987. (It was the 1977 Commission that adopted the City Manager Council form of government.) John has also been a member of the boards of directors of the Meriden Hall of Fame, the Meriden Boys and Girls Club, and the Bradley Home and Pavilion, and he served as President of all three organizations. John also served on the Governor's Revenue Task Force, the Governor's Commission on Children and Families, the Commission on Probate Reform, the Connecticut Commission on the Arts, the New England Board of Higher Education and the CVH Advisory Board.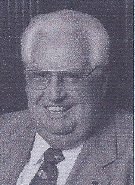 Vern Hunter
(Business & Commerce)
1931 – 2014
Throughout his life, Vern Hunter has resided and worked in the City of Meriden. In 1963, Vern Hunter owned and operated Hunter's Auto Clinic in Meriden. When he went out with a wrecker, he often found himself at the scene of an accident before the ambulance crews. From this, Vern recognized the need and importance of providing emergency medical service within the City of Meriden and began Hunter's Meriden Ambulance Service with just one 1953 Cadillac ambulance. At that time Hunter's was one of two ambulance services in the city. In 1976, the company became the only ambulance service in the City of Meriden and remains so to this date.
Mr. Hunter began his own emergency medical training; and beginning in 1964, he completed the first ambulance modified Red Cross course held in Meriden. The extensive course was the first and only course offered by the National Ambulance Training Institute of Westfield, Massachusetts. He completed the course in 1968.
Mr. Hunter is a leader in the attainment of medical training and equipment advances. He became one of the first EMT-IV Certified Services in the State of Connecticut in April 1980and his ambulance service became EMT-Paramedic Certified in 1983.
Hunter's services not only include the original divisions of emergency and non-emergency ambulance transportation, but also the diversified divisions of invalid coach, medical livery, special needs school bus, executive coach bus and luxury limousine transportation service. It is one of the leading providers of Emergency Medical Services in Connecticut.
From the transportation of children with special needs to the transport of the elderly for family visits or holiday outings, Hunter's provides local and long distance Medical Livery and Wheel Chair Van Services. This specialized form of transportation is implemented by a highly qualified, fully licensed and CPR certified team of professionals who treat the special needs of the people they transport.
Hunter's Ambulance Service, Inc., operates out of its 35,000 square foot headquarters located at 45-478 West Main Street and has five strategically located satellite facilities in Meriden, Wallingford, Middletown, Berlin and New London. The company employs over 450 highly trained professionals and has a fleet of 150 vehicles.
In addition, Mr. Hunter has been extremely active in civic and community organizations. He has been a member of the Elks Club for 43 years, a member of the Masonic Lodge for 35 years and a Rotarian for 17 years. He has served as president of the South Central CT/EMS Council and president of the CT Commercial Ambulance Association. He has served on the Board of Directors of Midstate Medical Center, the Boys and Girls Club of Meriden, the Connecticut Police Chief Association and has contributed time, finances and services to many community organizations and activities.