Hall of Fame Inductees
See our latest inductees listed below! Click on any inductee's name to learn more.
We apologize for the poor quality of some older inductee photographs. We are working to correct this as soon as possible.
Interested in submitting a nomination? Please click here to learn how »
---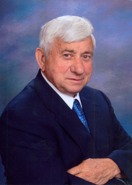 Frank J. Kogut
(Business & Commerce)
1938 –
Frank J. Kogut was born in Meriden in 1938 and has lived and worked here his entire life. Mr. Kogut attended St. Stanislaus and Meriden High Schools and received his Associate's degree from New York State University. Mr. Kogut is president of Kogut Enterprises, a Meriden-based business known for its dedication to the community through the donation of plants for Hubbard Park, refurbishment of the downtown traffic tower, and the construction of Little League and softball fields, as well as beautification work at the properties of the Meriden YMCA and YWCA. He has been honored by the Jaycees as Outstanding Young farmer for 1967-68 and received the MEDCO Keystone Award in 1988 for service to the Meriden community. Mr. Kogut was an Alderman to the Meriden Court of Common Council from 1966 to 1970, member of the Meriden Board of Education from 1985 to 2009, serving as its president from 1991 through 2007. He is a past Chairman of the Meriden Transit District, advisor to the Meriden Beautification Commission, served on the Meriden Board of Tax review from 1976 to 1978, is a past Chairman of the Education Committee of the Connecticut Nursery Association, past member of the Connecticut Farm Bureau advisory committee, and past gubernatorial appointee to the State Job Training Council.

Jedediah Wilcox
(Business & Commerce)
1827 – 1897
Jedediah Wilcox was born in the Westfield section of Middletown in 1827 and moved to Meriden in 1845. During his twenty-nine year in Meriden he founded and was involved with several businesses and companies, including Colt & Wilcox Carpet Bag Factory, J. Wilcox & Co., Meriden Tape Company, Wilcox Britannia Co./Wilcox Silver Plate Co., American Copper & Brass Co., American metal Co., and Meriden Steam Printing Co. He was one of Meriden's most determined businessmen for his time and his mansion at the corner of Broad and Camp Streets (site of The Beeches office complex today) was one of Meriden's most iconic and memorable residences. Before his home was demolished in the 1970s, its front parlor and many furnishings were acquired by the metropolitan Museum of Art, where they remain on display today. He served on several boards of directors and was appointed to serve on a special town committee which secured a charter for the City of Meriden as well as establishing the city's limits in 1867. He was the unsuccessful mayoral candidate in the City's first mayoral election in 1867. His business contributions, impact on the future of Meriden's industrial prestige, and commitment to the community are all part of his legacy. He passed away during a trip to Louisville, Kentucky in 1897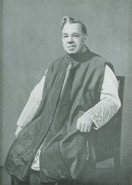 Monsignor John L. Ceppa
(Community Service)
1880 – 1948
Right Rev. Msgr. John L. Ceppa was born in Biskleupic, Poland in 1880 and died in Meriden, May 3, 1948. He was a resident of Meriden for 42 years. Fr. Ceppa founded St. Stanislaus parish in1906 from a wooden church and parish house and transformed it into a parish of impressive brick and mortar structures. Besides the Romanesque Church built in 1908 on the corner of Pleasant and Olive Streets (the first Catholic Polish church in the State of Conn), he spearheaded the building of St. Stanislaus School in 1915, St. Stanislaus Cemetery in 1920, the Parish Rectory in 1924, the Pulaski monument on Broad Street in 1934, St. Stanislaus stadium (now Ceppa field) in 1935 and St. Stanislaus Community Center in 1937. As head of the Polish Roman Catholic Church in Meriden, an ethnic community and an urban immigrant village was erected. His efforts provided a secure environment of stability and a sense of community for the incoming tide of Polish immigrants. Fr. Ceppa was internationally known for assisting the Red Cross during both wars (WW1 & WW2), and had affiliation with the Vatican in Italy. Today the Church on the hill and its school and community center still stand as a testament to Fr. Ceppa's accomplishments during his tenure in Meriden.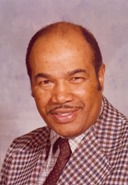 Roy Gooding
(Education)
1929 – 2019
Roy Gooding was born in Panama in 1929 and died in 2019 in Meriden. Mr. Gooding received his Bachelor of Science degree from teacher's College of Connecticut, and his Master's Degree, Sixth Year degree, and Advanced Studies degree from the University of Connecticut. He was also a recipient of National Science Foundation grants from Boston University. Mr. Gooding's teaching career began in 1958 at Platt High School where he taught Science until 1973. In 1973 he was appointed as an Assistant Principal at Jefferson Middle School. In 1976 he was named Principal of Jefferson Middle School, serving in this capacity until 1984 when he was named Supervisor of Bilingual, Migratory and ESL Programs, a position he held through his retirement in 1992. Mr. Gooding served as a member of the Meriden Board of Education from 1993 through 2005. He was named the Meriden Probus Club's Educator of the Year in 1979, received the NAACP Community Service Award in 1993, and was elected to the Platt High School Hall of Fame in 1999. Mr. Gooding coached cross-country as a teacher, initiated and directed the Meriden Ten-Mile Road Race, and inaugurated the Bernie Jurale Tradition Run..