Hall of Fame Inductees
See our latest inductees listed below! Click on any inductee's name to learn more.
We apologize for the poor quality of some older inductee photographs. We are working to correct this as soon as possible.
Interested in submitting a nomination? Please click here to learn how »
---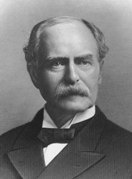 Abiram Chamberlain
(Historical Persons)
1837 – 1911
Governor Abiram Chamberlain was born December 7, 1837 in Colebrook, CT and died May 15, 1911 in Meriden. He attended public schools and studied civil engineering at Williston Seminary in Easthampton, MA., after which he worked for his father's firm for several years. Chamberlain turned to banking and began his career at the New Britain National Bank, where he would become President in later years. In 1867, Chamberlain moved to Meriden and was elected Cashier for the Home National Bank, being promoted to President by 1881, a position he held until his death. Early on, he served five years in the state militia. Among his many business interests, he was a promoter and director of the Meriden, Waterbury & Cromwell Railroad and Vice President of the Meriden Savings Bank. He was also a director of the Winthrop Hotel Company, the Meriden Cutlery Company, the Edward Miller Company, the Meriden Hospital and the Stanley Works of New Britain. At one time he was Vice President of the American Banker's Association and President of the Meriden Fire Insurance Company. He belonged to the Home and Colonial Clubs of Meriden, the Hartford Club, the Union League Club of New Haven and the Metabetchouan Fishing and Game Club of Canada. He was a prominent member of Meriden's First Congregational Church for many years. Chamberlain entered into politics in the 1870s, serving as the Meriden City Auditor from 1871-1874, as a member of the City Council, and as a member of the Connecticut House of Representatives in 1877. He served as Connecticut State Comptroller from 1901-1902 and was elected Connecticut's 43rd Governor (Republican) 1903-1905, the only Meriden resident ever elected to the office. During his term as Governor, Chamberlain was known for his kindness, integrity and good humor. Decisive when action was required, he called out the National Guard to quell the rioting which accompanied a trolley strike in Waterbury. He also signed legislation that established the State Police. When he died, the Meriden Morning Record called Chamberlain one of Meriden's most influential and beloved citizens and the Meriden Daily Journal remembered him as "the state's friendliest governor." The Chamberlain Highway is named in his honor. He and his wife Charlotte Roberts Chamberlain are buried in Walnut Grove Cemetery.

Dr. Charles T. Flynn, Jr.
(Science/Medicine)
1917 – 1990
Dr. Charles T. Flynn, Jr. , was born in New Haven in 1917 and died in Cleveland, Ohio in 1990. A graduate of Providence College and Yale University Medical School, he served in World War II as an Army Battalion Surgeon, receiving Bronze Battle Stars, a Victory Medal, and a Combat Medic Badge, and concluded his military service at Percy Jones Hospital in Battle Creek, MI. In 1951 he moved to Meriden with his wife Martha, where he lived and worked until his retirement in 1986. He was first appointed to the medical staff at Meriden-Wallingford Hospital as an Orthopaedic Surgeon and later was a founding member of the Meriden Orthopaedic Group. Dr. Flynn served as Member at Large, Secretary and Chairman of the Medical Board at Meriden-Wallingford Hospital; Chief of Staff at Meriden-Wallingford Hospital; and Associate Director of Surgery at Meriden-Wallingford Hospital. In retirement he served as a Director at Meriden-Wallingford Hospital until the time of his death. He volunteered at Newington Children's Hospital and was a member of the Kiwanis Club of Meriden.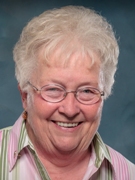 Maureen Bilger
(Community Service)
1938 – 2020
Maureen M. Bilger was born in Meriden in 1938 and has resided here all but one year of her life. She graduated from Meriden High School and received her Associate's degree from Middlesex Community College. Her service to our community began while her children were in school through her involvement with the PTA. She developed her leadership skills through her chairmanships of many committees. She led Brownie and Girl Scout troops and served as a waterfront director, gaining statewide and national recognition for her service. During the 1960s through 1980s, she was a member of the Meriden Junior Women's Club and Meriden Intermediate Women's Club where she served in officer and chairperson roles. In 1987 she became the first female member of the Kiwanis Club of Meriden after the national organization voted to allow women to join. She served in many capacities for the Kiwanis, and was their President from 2008 – 2009. She is currently a member of the Tri-Town Golden K Kiwanis Club. Her community involvement also includes memberships in the Meriden-Wallingford Hospital and Midstate Medical Center Women's' Auxiliaries. Mrs. Bilger has worked to calm the fears of children facing hospitalization through her work with a puppet troupe that visits area elementary schools. She also participates in the South Central Connecticut Substance Abuse Council. There she is a member of the "BABES" (Beginning Awareness Basic Education Studies) program which works with first and second grade age students focusing on coping skills for the loss of a parent, pet, and other tough times. Her other activities include membership on the Bradley Home Board of Directors and service as a lector, Eucharistic Minister, and Confirmation Advisor at St. Rose and St. Pius X Roman Catholic Churches. Mrs. Bilger is probably best known for her work as Executive Director of the Meriden Girl's Club (now Girl's Inc.) from 1981 through 2000. Though she was a salaried employee, her work there went far beyond the duties of her position. She was a confidant, supporter, role model, counselor, and for some girls a substitute mother.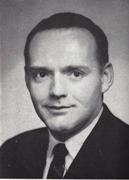 William T Shea
(Law/Government/Military)
1930 –
William T. Shea was born in 1930 in Springfield, Massachusetts and moved to Meriden in 1936, where he and his wife Janice still reside today. He graduated from Meriden High School, earned a Bachelor of Science degree in economics from the Wharton School of Commerce at the University of Pennsylvania, and his Juris Doctor degree from the University of Pennsylvania Law School. Mr. Shea opened a law practice in Meriden in 1955 and recently celebrated his 59th year as a practicing attorney. He was first elected to the State Legislature in 1958 and served four terms in Hartford before being elected Mayor of the City of Meriden in 1963. He served simultaneously as Mayor and State Representative in 1964, and was reelected Mayor in 1965. As a State Legislator, Mr. Shea served as Clerk to the Judiciary Committee and was the Minority Leader of the House of Representatives. During his two terms as Mayor, Mr. Shea oversaw the renovation of City Hall and the conversion of the former Wilcox Technical School on Miller Street into the Stoddard Building, which at the time housed the health department, police department and circuit court. His time in office also saw the creation of a municipal personnel department, relocation of the water department to Charles Street, and the beginning of the effort to find new space for a new public library. Giuffrida and Carroll Parks were also developed during his administration.