Hall of Fame Inductees
See our latest inductees listed below! Click on any inductee's name to learn more.
We apologize for the poor quality of some older inductee photographs. We are working to correct this as soon as possible.
Interested in submitting a nomination? Please click here to learn how »
---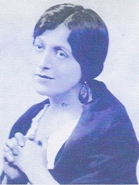 Carmela Ponselle
(Art)
1887 – 1977
Carmela Ponselle, a renowned mezzo-soprano of the opera and concert stage, was born Carmela Anna Ponzillo on June 7, 1887 in Schenectady, New York. She was the eldest of three children born to Maddalena and Bernardino Ponzillo; Antonio and Rosa were the younger siblings. Like her sister Rosa, Carmela began her musical activity in the girl's choir at Meriden's Our Lady of Mount Carmel Church. The church organist, Miss Anna Ryan, taught her how to read music and play the piano. Carmela's voice continued to develop and, on her 21st birthday, she moved to New York City to receive voice training and seek employment.
After a start as a ballad singer in a supper club and in theatrical musicals in New York City, she made many appearances in vaudeville on the Keith Circuit. Joined by her sister Rosa they became national headliners as "The Ponzillo Sisters" until Rosa left to sing at the Metropolitan Opera House.
In 1925 Carmela made her debut with the Metropolitan Opera Company as Amneris in "Aida." She went on to sing such great roles as Laura in "La Gioconda" (which she did with Rosa), the female lead role in "Samson and Delilah" and "Carmen." The photo above shows her as Santuzza in "Cavalleria Rusticana," one of her most famous roles.
Madame Carmela Ponselle retired from an active career in 1935 and made her last public appearance as a performer in April, 1951 when, at the age of 63, she sang an aria from Verdi's "Don Carlos" at Madison Square Garden at a benefit concert for the blind. She spent many of her retirement years working with the handicapped and underprivileged and left a legacy of sincere human service to those less fortunate than her.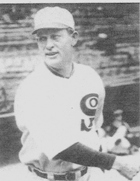 Edward Arthur ("Big Ed") Walsh
(Sports)
1881 – 1959
Edward Arthur Walsh came well by his nickname of "Big Ed." He was big in physique, big in accomplishment, and big in the hearts of the people of Meriden.
Born in Plains, Pennsylvania, May 14, 1881, he grew up with baseball. He played his first professional game with the Meriden team in the old Connecticut League in 1902. By 1904, after a season in Newark, he was pitching for the Chicago White Sox. Two years later he helped the White Sox win the World Series over the Chicago Cubs by winning two games.
The year 1908 was the most memorable one of "Big Ed's" career. In that year he started in 49 games and completed 42. He pitched in 66 games and worked 464 innings. In this same year he struck out 269 batters; walked only 56; achieved an earned run average of 1.42 and ended the year with a 40-15 won-lost record.
Two qualities characterized Ed Walsh; his mastery of the spitball, then a legal pitch, and his phenomenal physical and mental stamina. He retired from professional baseball, as an active major league player, in 1917 after a season with the Boston Braves. In 1919 he played with Milwaukee in the American Association. In 1922 he was an American League umpire. He served six years as a Chicago White Sox coach, 1923-25 and 1928-30. He later returned to Meriden where he was employed by the city for many years.
Walsh's accomplishments in professional baseball were recognized in 1946 when he was elected to the Baseball Hall of Fame in Cooperstown, New York, where a bronze plaque commemorates the man and his achievements.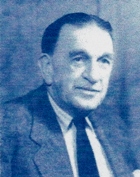 Roy Cornwell Wilcox
(Benefactors)
1891 – 1975
Soldier, sportsman, conservationist, corporate executive, community benefactor, politician, wildlife photographer – Roy Wilcox was all these things, and more.
Born in Meriden on December 24, 1891, he lived a rich, full life of 83 years. His interest in wildlife began in boyhood. He graduated from Yale University, enlisted in the French Army in World War I, and served later in the American Army. The Republic of France awarded him the Croix de Guerre.
Starting as a salesman for the International Silver Company in 1913, he rose to become its executive vice president in 1935. A republican in politics, he served in the State Senate, was elected state treasurer, and, in 1933, lieutenant governor under Democratic Governor Wilbur L. Cross.
In 1957 Roy Wilcox retired from his corporate responsibilities to devote himself to photographing wildlife, a field which he had previously practiced only as a hobby. His many films of woods, waters, and waysides won honors for excellence and were distributed nationwide. He became recognized as one of the foremost conservationists at a time when few people knew the meaning of the word ecology.
A leader in every field into which he ventured, Roy Wilcox was honored as a prophet in his own time and respected by the people of Meriden among whom he spent his life.