Hall of Fame Inductees
See our latest inductees listed below! Click on any inductee's name to learn more.
We apologize for the poor quality of some older inductee photographs. We are working to correct this as soon as possible.
Interested in submitting a nomination? Please click here to learn how »
---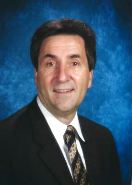 Enrico Buccilli
(Community Service)
1951 –
Enrico "Rico" Buccilli, born January 27, 1951, has lived in Meriden since he emigrated with his family in 1955 from Pratola Peligna, Italy. Being the eldest son, Rico helped his parents negotiate the challenges of their new country while adapting as well.
Rico attended Meriden schools graduating from Platt High School in1969. He was captain of both the basketball and football teams. Rico graduated from Southern Connecticut State University with bachelor's and master's degrees in Education. He received his 6th year degree from Central Connecticut State University in Supervision and Curriculum Development. Rico was a 35+ year Boy's Club Alumni Association membership, serving as President from 1981-82. Coaching has been important to him as he coached a variety of youth sports, both at the Elementary and High School level in Meriden. Rico was a 25 year member of the Meriden Planning Commission, chairman for 18 years. He chaired the 10-year Plan of Conservation and Development.He was a leader in the growth of Meriden, including The Midstate Medical Center, redevelopment of downtown Meriden, Meriden Green, and Stop & Shop.
He's a Meriden Golf Commission member serving as President,a 9-year member of the Bradley Home Board of Directors, a 10-year member, currently treasurer of the Meriden Sports Reunion Committee He was an educator for 36 years, as a teacher and then Assistant Principal at Washington Middle School. He was the principal at Dag Hammarskjold Middle School in Wallingford. In 2001, he was named Wallingford's Administrator of the Year. In 2007, awarded Principal of the Year by the Connecticut Association of Schools, receiving national recognition. Rico is married to his high school sweetheart, Andrea Kaska Buccilli. They have two adult children, Kristina and Michael, as well as four grandchildren. Rico has and continues to serve the community and people of Meriden with distinction.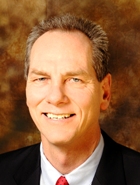 Jay Murphy
(Sports)
1962 –
Jay Dennis Murphy was born in Meriden on June 26, 1962 to his parents Florence and Flurence Murphy. He grew up on Bee St. with his parents and his sister and brother, Sally and Billy. The lefty grew up on the East side of Meriden, honing his game and patented elbow jumper on the hardcourts of the city parks. He has fond memories of his days at the Meriden Boys Club, where he developed life-long friendships with teammates. Jay had a distinguished career at Maloney leading the Spartans, in 1980, to a perfect 20-0 record, averaging 28pts/game his senior year and graduating as the school's all-time scoring leader with 1,236 points At Boston College, the 6'11" power forward was a 4 year starter averaging 14.6 points over his career. He led the Eagles to two Sweet 16's, one Elite 8 graduating as a three-time Big East honoree, ranking sixth on Boston College's all-time scoring list with 1,795 career points and seventh on the all-time rebounding list with 763 rebounds. Jay holds a degree in sociology and was inducted into Boston College's Athletic Hall of Fame in 1999. 1984 marked an incredible year for Murphy, He was named to 1st team All Big East, received an invitation to the Olympic Trials and culminated as the 31st pick in the historic NBA draft. Jay played professionally for 4 years in the NBA and then 7 years in France and Italy. Jay's beautiful wife Paivi, played for the Finnish National Basketball team. They are blessed with 3 sons. Erik, Alex, and Tomas all played D1 basketball, professionally on the international level and represented Finland on numerous national teams. The Murphy's are a true basketball family. Jay continues to be an influential name in basketball, known nationally and internationally, always grounded by his roots in the Silver City.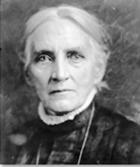 Maria Louise Sanford
(Historical Persons)
1836 – 1920
Maria Louise Sanford was born December 19, 1836, in Saybrook, and her family moved to Meriden shortly after her birth. She spent most of her formative childhood and adolescent years in Meriden, studying in common schools until age fourteen and finishing with three terms at the privately-funded Meriden Academy. After graduating from the New Britain Normal School (now Central Connecticut State University) in 1855, Sanford taught in Connecticut schools until 1868. She moved to the Philadelphia area in order to take up more rewarding teaching positions, and it was there that she began what would become a career as both a public figure and an academic. In 1870, officials from the recently-established Swarthmore College appointed Sanford as professor of history, making her one of the first women to teach at an American university. She also took up public speaking, beginning with lectures at teachers' institutes. In 1880, Sanford began teaching rhetoric and elocution at the University of Minnesota and helped the university establish its cooperative education program. She frequently delivered public lectures on cultural and social topics, becoming known as the "best loved woman" in Minnesota. Upon her retirement in 1909, she used her state-wide prominence to advocate for social reforms. She was a founder of the Minneapolis Improvement League and a Minneapolis hospital director; she influenced the creation of a Minnesota national forest, advocated improved education for Blacks and Native Americans, and promoted women's suffrage. Sanford died April 21, 1920, in Washington, DC, two days after speaking to the Daughters of the American Revolution. In 1958, during Minnesota's centennial year, the state sent a sculpture of Sanford to the United States Capitol as its second and final representative in Statuary Hall. It now sits in the Capitol Visitor Center.


Marvin Beloff
(Business & Commerce)
1928 –
Marvin "Marv" W. Beloff was born July 11, 1928, in Meriden and graduated from Meriden High in 1946. While furthering his education at NYU he worked at Abraham & Straus, but left both abruptly to return home to help his ailing father run the family business, Styletex. There, long before PC's existed, Marv invested in an IBM mainframe and programmed a sophisticated inventory control system. As buyer for the company, Marv would travel to NY weekly. On one such trip, he met his future wife, Gladys "Mike" Bucholtz. They married on June 14, 1953. In 1973, Marvin opened Beloff's Woman's World, a specialty clothing store. For the holidays, he would wrap his store with a red ribbon and bow, drawing attention from around the state. Ahead of his time in recognizing that 'brick and mortar' stores are limited, Marv created a complimentary catalog business that sold nationwide. Marvin served as 'Town Crier' and board member for the Meriden Chamber of Commerce, where he chaired the Meriden Silver Museum Development Committee. He was also on the boards for Meriden Symphony and Chorale Connecticut, and chaired the WWII Memorial Hospital board. As President of Meriden Kiwanis Club in 1978-79, Marv introduced women into club membership. He also performed for many years in the annual Kiwanis Kapers. As an avid sculptor, Marv found he needed a better hand sander. He invented the SandDevil, and began selling his creation nationwide. As a fan of bow ties, Marv began another venture carving wooden neck-ware. While selling his bow ties worldwide, the International Wooden Bow Tie Club evolved. As a born communicator, for 5 years he hosted 'Marv's Mike', a TV show on Cox Cable's public access channel.As an avid uke player, Marv helped found The Humble Bees Ukulele Band, touring almost twenty years for charity. As a concerned citizen, he organized 'Citizens for Election Reform' (CFER), helping pass Connecticut's Campaign Finance Reform Act of 2005. CFER received a citation from the General Assembly for this effort.At the age of 95, Marvin finally retired his mallet and chisels and turned his creativity to sculpting words instead of woods. His expanding collection of songs and poetry complement the books that he had previously written.