Hall of Fame Inductees
See our latest inductees listed below! Click on any inductee's name to learn more.
We apologize for the poor quality of some older inductee photographs. We are working to correct this as soon as possible.
Interested in submitting a nomination? Please click here to learn how »
---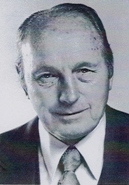 Benjamin J. Zajac
(Sports)
1916 – 2007
A Meriden native, Ben Zajac was an outstanding athlete at Meriden High School, starring in basketball, baseball and football. He served as captain of the 1934-35 Meriden High School basketball team, which won the State and New England championships and was selected for the All-State team. He won honorable mention on the All-State football team in 1934 when he played tackle and linebacker on the Meriden High School C.C.I.L. championship team.
Zajac continued a three sports career at the Scarborough School. Georgetown University and Teachers College of Connecticut where he captained the basketball team in his senior year.
The first teacher of Physical Education at Wilcox Technical School, Zajac served as Athletic Director and coached basketball and baseball. In 1957 he transferred to Meriden High School where he coached soccer, baseball and basketball. Later at Platt High School, he coached basketball and baseball and served as Athletic Director and Supervisor of Health and Physical Education.
Coach Zajac's many accomplishments were recognized when he was inducted into the Connecticut High School Coaches Hall of Fame in 1980 and was selected Athletic Director for District #1, which encompasses the New England states, New York, New Jersey and Pennsylvania.
He served as state president to the Connecticut High School Coaches Association. An award (James E. Coogan Award) from the Connecticut State Board of Approved Basketball Officials placed his name in the Basketball Hall of Fame in Springfield, Massachusetts.
Throughout the years, Zajac has been civically involved in projects which benefit the youth and citizenry of Meriden.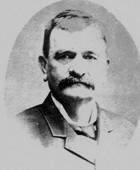 Horace C. Wilcox
(Benefactors)
1824 – 1890
Born in Middletown, Horace C. Wilcox began his career in business as a peddler of tinware. He helped organize Meriden Britannia Co., a silver manufacturer, and was its first secretary and treasurer. He also founded Wilcox Silverplate Co. (forerunner of International Silver Co.) and Wilcox & White Organ Co., serving both as president.
Wilcox served as director of Meriden Silver Plate Co., Manning & Bowman Co., Meriden Saddlery & Leather Co., Aeolian Organ & Music Co., Meriden Street Railway Co., Roger Bros. of Waterbury, R. Wallace & Sons of Wallingford, Meriden Fire Insurance Co., Home National Bank, Republican Publishing Co., Walnut Grove Cemetery Assn., and City Savings Bank. He also served on the building committee of First Congregational Church and donated $1 million toward construction of the Meriden-Waterbury railroad.
Elected a Republican member of Meriden's first Board of Aldermen, he was the city's fifth mayor and served 2 one-year terms in 1875-76. The following year he served a term in the Connecticut Senate.
One of Meriden's foremost business-oriented philanthropists and politicians, Horace C. Wilcox's dedication and contributions to the Meriden community remain evident today, long after his death in 1890.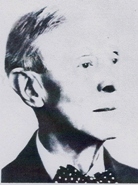 Louis Gudebrod
(Art)
1872 – 1961
Louis Gudebrod was born in Middletown, Connecticut on September 20, 1872, and moved to Meriden with his family when he was 14. He later married Julia Manley of Meriden, and although his work took him to many other parts of the world, it was in Meriden that he died on December 6, 1961.
His artistic career began with a visit to a New York sculptor's studio, which inspired him to his life's work. He studied in Paris with many noted sculptors and later attended the Art Students' League in New York when he became a realist. He worked with other prominent sculptors there.
Gudebrod received a medal at the Pan American Exposition for a Lake Huron piece. This led to countless other prize-winning and commissioned sculptures. In 1915 he was awarded a gold medal for an 8 ft. by 5 ft. metal "Spirit of the West" done for the International Silver Company.
Other Gudebrod work created for the local area include a bronze Honor Roll; a DAR Memorial Tablet; a bas relief of Mrs. Caroline Yale; ornaments for the Yale building; a Meriden Centennial bas relief; a Bristol memorial; a Pavlova miniature; Senator Orville Platt at the Hartford State House; various plaques in Hartford, Coventry and Groton; heads of Washington and Lincoln; and busts of Governor Alfred Smith and of John Gudebrod, his father.