Hall of Fame Inductees
See our latest inductees listed below! Click on any inductee's name to learn more.
We apologize for the poor quality of some older inductee photographs. We are working to correct this as soon as possible.
Interested in submitting a nomination? Please click here to learn how »
---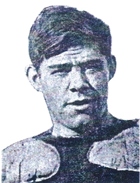 Harry J. Costello
(Sports)
From Meriden's "Dublin Hill," Harry Costello was a football coach's dream and an outstanding track man at Meriden High School in the years 1907-09. He went on to Georgetown University where his gridiron exploits propelled him into Georgetown Sports Hall of Fame.
He earned his nickname "Nine-point Cos" at Georgetown because the team was considered a nine point favorite with Costello in the lineup. As quarterback, be achieved hero status when be dropkicked three field goals and the team went on to defeat University of Virginia for the first time in twelve years.
The great "Pop" Warner said of Costello: "For his inches, 5' 9", one of the finest players whoever lived." West Point's coach noted that he could run, punt, pass and drop-kick with equal facility, and the coach of the losing team in the 1913 Jesuit Big East title game commented, "This Costello is the best quarterback I ever saw and I would put him on my All American team. We could not stop him. We could not hurt him. Costello beat us today."
After college Costello played in the newly formed National Football League with the Detroit Heralds and the Cincinnati Celts during the 1919-21 era. He later became a sportswriter in Detroit and Washington. D.C., thereafter retiring to Virginia.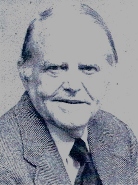 Joseph F. Coffey
(Benefactors)
1905 – 1993
Best known for his long association with the Meriden Boys Club, Joe Coffey has been called "Mr. Boys Club." He began there as athletic director in 1936, became director in 1945, and served in that capacity until 1975. His efforts resulted in the building of the Boys Club on Lincoln Street which was renamed in his honor.
While with the Boys Club, he was chairman of the National Boys Club Game Room Program, and he received the Connecticut State Professional Award for contributions to the development of the Connecticut area council as well as for professional service to the Boys Club. He was the first president of the Meriden Little League, first president of the Meriden Biddy Basketball Council, first president of the Meriden Hall of Fame, and president of the New Haven Basketball Officials. He aided youths in trouble as an advocate in juvenile court and he helped boys obtain college scholarships to schools they might otherwise have been unable to afford.
In addition to his service in numerable other civic organizations, Coffey served Meriden's city government as Councilman and Board of Education member as well as member of various commissions and committees.
After retirement from the Boys Club, Coffey's efforts have been directed to working with the elderly with the same enthusiasm and energy he gave to the youths he served for so long.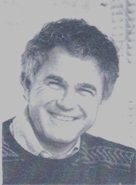 Thomas Anthony (Tomie) DePaola
(Art)
1934 – 2020
A Meriden native, Tomie was graduated from Meriden High School in 1952, earned his Bachelor of Fine Arts degree in 1956 from the Pratt Institute in Brooklyn, New York, and received his Master of Fine Arts degree from California College of Arts and Crafts in 1969.
DePaolo accurately forecast his future when he announced to his first grade teacher that he was going to make books with pictures when he grew up. He is author and illustrator of more than sixty books. Among the awards he has received for his contributions to children's literature are the coveted Caldecatt Honor Book Award, the Nakomare Prize, the Kierlan Award, and the Regina Medal. In 1978, children across the United States chose four of his works among their favorites.
As a child Tomie was impressed with the ceiling-high mural of knights and princesses in the children's wing of the Meriden library. As a painter and muralist, his works adorn many Catholic churches and monasteries in New England.
In 1985 he was chosen to create the American Book Awards poster and the Metropolitan Museum of Art Advent Calendar. In 1984 he illustrated the Neiman-Marcus Christmas catalog. He has also designed theater and nightclub sets.
Tomie's home in Welmont Flat, New London, New Hampshire, which he redesigned and rebuilt, was featured in the Home edition of the Boston Globe. He passed away in 2020 at age of 85.