Hall of Fame Inductees
See our latest inductees listed below! Click on any inductee's name to learn more.
We apologize for the poor quality of some older inductee photographs. We are working to correct this as soon as possible.
Interested in submitting a nomination? Please click here to learn how »
---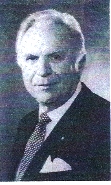 Alexander F. Giacco
(Business & Commerce)
1919 – 2013
Alexander F. Giacco, Chief Executive Officer (CEO) and Chairman of the Board of HIMONT, lnc., is renowned throughout the international chemical industry for his achievements as a chemical engineer, researcher, inventor, and executive. Until 1987, he served as the sixth president of Hercules Inc., a firm he joined in 1942 after graduating from Virginia Polytechnic Institute, Blacksburg, with a B.S. in chemical engineering. During his career at Hercules, Giacco held management positions in the research, production, marketing, planning, and international aspects of the company.
A 1937 graduate of Meriden High School, Giacco's awards and honors from his peers in the business world as well as from civic and other organizations are numerous. Financial World chose him as one of the 10 outstanding CEOs in U.S. industry and subsequently as the best CEO in the chemical industry. For three consecutive years (1983-1985) The Wall Street Transcript accorded him the chemical industry's top CEO honors. For his many professional achievements, Giacco holds honorary degrees from Mt. St. Mary's College, Emmitsburg, MD (1988); Goldey Beacom College, Wilmington, DE (1984); Widener University's Delaware School of Law (1984); and William Carey College, Hattiesburg, MS (1980).
Giacco holds several patents on the design of solid rocket-propellant grains and has been widely published in professional magazines and journals. He also serves as CEO and Vice Chairman of Montedison, S.p.A., a chemical corporation based in Italy and established in 1983. In 1985 the Italian government awarded him "Commendatore" status in the Order of Merit of the Italian Republic, the country's highest civilian award. Since 1987 a member of the National Academy of Engineering, Giacco earned this honor for his creative leadership in the chemical industry. Also in 1987, Hercules Inc. established the Alexander F. Giacco Presidential Chair at Virginia Polytechnic Institute to honor his many accomplishments in the chemical industry and for his executive and administrative talents.
Giacco, born August 24, 1919, in San Giovanni de Gerace, Italy, came to Meriden with his immigrant parents shortly thereafte, he passed away in 2013 in Wilmington De.. He and his wife, the former Edith Brown of Roanoke, Virginia, were the parents of five children.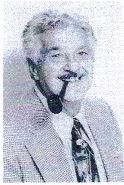 Antonio N. Parisi
(Performing Arts)
1906 – 1995
Antonio N. Parisi, born in Meriden on July 1, 1906, has three loves: his family, his music. and his hometown. A product of the local school system, Parisi earned his Bachelor of Music degree from Combs Conservatory of Music; Bachelor's and Master's degrees in Music Education from Hartt College; and his Sixth-Year Professional Certificate in Administration from the University of Hartford. He began teaching music in 1935 at Meriden High School and later at Maloney High School. In 1972, after nearly four decades in the Meriden School system, he retired as chairman of Maloney's music department.
Parisi's commitment to the City of Meriden is evidenced by his work as organizer and director of the Meriden Community Chorus; director of the Insilco and Barbershop Choruses; and pageant director of the city's Sesquicentennial celebration in 1956. His active involvement as a member or officer of numerous Meriden and statewide civic, service, and other organizations has earned him many awards, including the B'nai Brith Interfaith Award, the Pride in Meriden Award, and the New England Kiwanis District Key Club Award.
"Tony," as he is fondly called, served on the city's Board of Tax Review, the Library Board of Trustees, and the Board of Ethics. He also served as treasurer of the Meriden Symphony Orchestra, business manager of the Meriden Music Association for more than 25 years, a member of the Friends of the Meriden Public Library, president of the Meriden Hall of Fame Association and of the Rosa Ponselle Fund, and held numerous positions with both the Meriden Kiwanis Club and the New England Kiwanis District.
A choral composition by Father R. Woollen and a book, Christmas Carols, by Tomie DePaolo, both dedicated to Parisi, bear witness to the impact he has made on the lives of people around him.
Parisi and his wife, the former Baptista ("Tata") Pagano of Middletown, reside in Meriden and have three sons: John of Winsted, Peter of Wallingford, and Anthony of Los Angeles, California.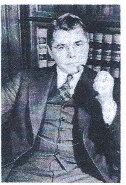 Francis R. Danaher
(Community Service)
1904 – 1980
Francis R. Danaher wore many hats during his adult life: husband, father, lawyer, judge, boy scout leader, politician. His commitment and dedication to each of these roles bring honor to him and to the City of Meriden. The son of Cornelius and Ellen Ryan Danaher, he was born in Meriden on October 8, 1904. Educated in the local school system, he graduated from Meriden High School in 1921, and went on to Georgetown University and to its law school. He received his law degree and was admitted to the bar in 1928.
He joined his father, his uncle Daniel Danaher, his brothers John and Laurence Danaher, in the family law firm and began his long career of professional and community service. In 1930 he was named special city prosecutor; in 1935, city court judge; and in 1937, won election as Meriden's mayor. Danaher went on to become the city's only five-term mayor (1938-1948). During his tenure Meriden was named the nation's "Ideal War Community"; Danaher guided the city through the difficult years of World War II, and was responsible for a wide variety of municipal programs and projects.
"Fran," as he was known to all, spent much of his personal time committed to the Boy Scout movement, and especially to Catholic Scouting. He was scoutmaster, St. Joseph's Church; president, Central Connecticut Council; and an executive board member at state and national levels for more than 25 years. Known at all levels for this commitment, Danaher received the Silver Beaver medal, the Silver Antelope award, the Silver Pelican award – all in recognition of his outstanding achievements. In addition, the Catholic Church awarded him the St. George medal (1957), and he was made a Knight of St. Gregory by Pope John XXIII (1963).
Danaher practiced what he preached. He taught Sunday School classes at the then Connecticut School for Boys on Colony Street, Meriden; he is credited with helping many wayward boys under his tutelage get back on the right track.
A corporator of the Meriden-Wallingford Hospital, Danaher also served for more than 25 years on the executive board of the YMCA. He served on the boards of the Meriden Boys Club, the American Red Cross, and the Girl Scouts. Danaher was a member and president of the Rotary Club and the Meriden Community Chest.
Danaher, who died in 1980, was the husband of Dorothy M. Foell Danaher, who carries on the Danaher tradition in scouting and in political life. They are the parents of a daughter, D. Alannah (Danaher) Coshow, and four sons, Francis R. Jr., Terence J., Patrick H., and Kenan C. Danaher.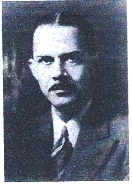 Lorenzo Hamilton
(Art)
1895 – 1955
Born in Meriden on June 24, 1895, Lorenzo Hamilton left his architectural mark on homes and public buildings that today dot the Meriden landscape. Deeply committed to the city of his birth, Hamilton was also active in a variety of civic and other local organizations. A 1914 graduate of Meriden High School, Hamilton went on to Phillips Academy and Yale College. Like many of his generation in 1917 he interrupted his college career to join the Army when the United States entered World War I. A lieutenant in the Field Artillery and later a reserve officer, Hamilton returned to Yale and graduated in 1921 with a bachelor's degree in Fine Arts.
Yale's School of Fine Arts awarded him a Winchester Fellowship, making European travel and study possible for a year. Upon returning to Meriden, Hamilton worked as senior draftsman at the H. Wales Lines Co., founded by his grandfather. His dream of opening his own architectural office became a reality in 1923. Over the next decade he began to gain prominence as a residential architect. Hamilton, collaborating with sculptor Louis Gudebrod, planned one of Meriden's most poignant landmarks – the Memorial Boulevard on Broad Street, work on which began in 1929.
Among his most significant projects were: First Church of Christ Scientist, Bradley Park; Bradley Memorial Nurses' Home; Professional Building, West Main Street; and the Bradley Home, Colony Street. Hamilton designed the Hanover School, South Meriden – considered the first "modern" school in this area; Wilcox Slate Trade School, then on Miller Street; Roger Sherman and John Barry Schools; the renovated Wilcox Block, Colony Street, formerly the site of the Sears-Roebuck department store; the Colony Street buildings of Styletex, Michael's Jewelers, and Squire Travel and Insurance Companies; and the International Silver Company's North Colony Street office. Hamilton also designed the Yale Record Building, New Haven. His last major local project prior to his death in 1955 was his design of the WWII Veterans Memorial Hospital.
Hamilton was among the first 10 architects registered in the State of Connecticut following new licensing requirements in 1933. He held certificate #7. An organizer of the Meriden Arts and Crafts Association, he is also fondly remembered by Charity Club drama lovers for the many program covers he designed.
Hamilton and his wife, the former Ella Stohr, lived in Meriden all of their lives. They are survived by two sons, Mark and James, and six grandchildren.