Hall of Fame Inductees
See our latest inductees listed below! Click on any inductee's name to learn more.
We apologize for the poor quality of some older inductee photographs. We are working to correct this as soon as possible.
Interested in submitting a nomination? Please click here to learn how »
---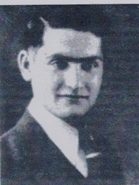 Benjamin Homer
(Art)
1917 – 1975
Born in Meriden, Benjamin Hozer changed his name to Homer for professional reasons. His talent and love for music surfaced in his early years, and Ben Homer became a member of the Meriden Symphony at the age of 11. His composing ability blossomed early with his "Class Song – 1932" at Jefferson Junior High School. At age 15 he became a member of the American Federation of Musicians.
After a stint with the Silver Rhythm King at WICC in New Haven, Homer won a scholarship to the prestigious New England Conservatory of Music. In his third year there, he was engaged by Artie Shaw to copy his arranger's scores. This led to subsequent arranging for Raymond Scott., Jack Teagarden, AI Donahue, Bob Chester, Les Brown and Paul Whiteman. "Downbeat" magazine wrote, "No band's library is complete without a Ben Homer arrangement." At age 26, he was then the youngest member ever inducted into ASCAP.
Homer's best known compositions are "Shoot the Sherbet to Me Herbert," "Joltin' Joe DiMaggio," "Mexican Hat Dance," "Bizet Had His Day," and the all-time favorite "Sentimental Journey."
He returned to the New England Conservatory of Music in 1942 to teach Modem Theory and Arranging.
Ben Homer's music and arrangements live on with the resurgence of the music of the big bands – a fitting tribute to and a lasting legacy from this talented musician and composer.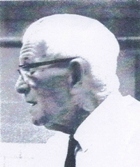 Dennis T. McMahon
(Sports)
1917 – 1975
A boxing manager for 50 years, Dennis T. McMahon's most famous protege was Louis "Kid" Kaplan, who won the featherweight championship of the world in 1925. He began promoting boxing matches in 1902, and he helped train other such famous pugilists as Max Baer, Jimmy McLaen and Paulino Uzcudun.
McMahon managed Kaplan for 12 years, and the pair were nicknamed Damon and Pythias. When Kaplan won the title, Meriden, as a token of appreciation, presented McMahon with $500 in gold and Kaplan, a large silver loving cup.
When boxing enthusiasts attempted to introduce McMahon to "sell" the title fight a few years later, be went to the New York State Boxing Commission and turned in the crown. This bold and honest act shocked the boxing world.
For 43 years McMahon served with the Connecticut State Athletic Commission as chief inspector and later as commissioner. He was awarded, in 1954, the Connecticut Sportswriters' "Gold Key" and was named "Man of the Year" by the Connecticut Boxing Guild.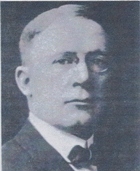 Thomas L. Reilly
(Benefactors)
1858 – 1924
Born in New Britain, Thomas Lawrence Reilly came to Meriden in 1877 to study law with a local judge. He found law unfavorable and returned to journalism, a career he had begun with the "Hartford Sunday Globe." He was a reporter for "The Penny Press," the "Meriden Republican," and the "New Haven Register" before establishing the Journal Publishing Company, with three other men, and becoming City Editor of "The Meriden Journal."
As a Democrat, Reilly became Clerk of the Meriden School Board in 1900. He served as Chairman of the Democratic Town Committee and in 1906 was elected Mayor of Meriden. He served three terms before he was elected Connecticut Representative to Congress in 1910, where he spent two terms. Great improvements in working conditions for thousands of postal employees resulted from the "Reilly Eight-In-Ten Law" which he authored. Following his congressional terms, Reilly was elected twice to the office of High Sheriff of New Haven County. He introduced many reforms in the jail system while serving in that capacity.
Reilly's civic activities in the City of Meriden included service as a director of the Curtis Memorial Library. He was Exalter Ruler of B.P.O.E., Amaranth Club, and a member of the Silver City Council No.2 Knights of Columbus.