Hall of Fame Inductees
See our latest inductees listed below! Click on any inductee's name to learn more.
We apologize for the poor quality of some older inductee photographs. We are working to correct this as soon as possible.
Interested in submitting a nomination? Please click here to learn how »
---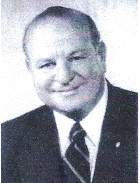 Joseph R. Stone
(Business & Commerce)
1919 – 1994
Joseph R. Stone was born in Meriden and went to local schools. After graduation, he served in the Navy during World War II. Upon his return, he worked for a brief time at New Departure before deciding to begin his own business, Stone Travel Inc. and Stone Insurance Inc. He built these businesses into multi-million dollar operations, serving the travel and insurance needs of businesses and individuals throughout central Connecticut.
Mr. Stone served on the board of directors of the YMCA and as its president. He was also active in the Boys Club, was president of the Unison Club, was a member of the Knights of Columbus and was a Connecticut State Representative from 1953 - 1954.
In the late 1960s Mr. Stone became involved with the American Society of Travel Agents (ASTA). He held virtually every office in the organization, including an unprecedented four years as Chairman. Mr. Stone received numerous awards from the travel industry including the Rosenbluth Award, the Travel Trade's Travel Person of the Quarter Century Award and in 1989 was elected into ASTA's Travel Hall of Fame. He was the first retailer to be included into this prestigious group.
In his position at ASTA, Mr. Stone worked with many of the world's government leaders and developed friendships with Egypt's Anwar Sadat, the Phillipines' Fernando Marcos and Mexico's Miguel Alemain, to name a few.
In recognition of Mr. Stone's contributions to the advancement of international tourism, he received awards from a number of foreign governments worldwide. Amongst these were the highest civilian honors from Brazil, Mexico and France. In addition, he received the Commenda Deli Ordine Della Republica Italiana, the highest honorary title conferred by the President of Italy.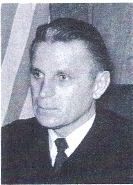 Joseph W. Bogdanski
(Law/Government/Military)
1916 – 1997
The Honorable Joseph W. Bogdanski was the 31st Chief Justice of the Connecticut Supreme Court and the only Meriden person to hold this prestigious position.
Judge Bogdanski was born and raised in New Britain and graduated from Vermont Academy and Colgate University. While at Colgate, he was selected as an All-American football player and he starred on Colgate's undefeated, untied and unscored upon team. In 1959 he was recognized by Sports Illustrated as a Silver Anniversary All-American. After college, he taught briefly at Arnold College and coached baseball, basketball and football there. He attended Yale University as a graduate student. Thereafter, he enrolled in the Hartford College of Law, now the University of Connecticut School of Law, and received his law degree in 1940.
As an attorney, he engaged in private practice in Meriden from 1940 to 1943. He served in the United States Navy from 1943 to 1946, rising to the rank of Lt. (j.g.), and was stationed in the Atlantic theater on a destroyer escort. After World War II he was appointed to the military staff of then Gov. Chester Bowles. In 1949 he was appointed a judge in the Meriden Police Court. In 1955 he became a judge of the Court of Common Pleas and in 1958 he was appointed to the Connecticut Superior Court. In 1972 he was appointed a justice to the Connecticut Supreme Court, from which he retired as chief justice in 1981. Justice Bogdanski was known as "the great dissenter" because of the many dissents (71) which he authored during his years on the Supreme Court. He was, in many cases, ahead of his time, as his dissents later became the law of the State of Connecticut. He continued in the judiciary as a senior judge of the Superior Court at New Haven County until 1991.
Active in many organizations, he is remembered for his participation with the Meriden Boys Club, the Polish Falcons Nest 68, the Polish White Eagles Society, the Polish Knights and the Polish Legion of American Veterans Post 189, for whom he was the organization's first commander.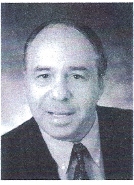 Samuel Kalmanowitz
(Community Service)
1939 – 2008
Born in Meriden, Mr. Kalmanowitz was a 1957 graduate of Meriden High School, and a 1961 graduate of the University of Connecticut School of Pharmacy. A Meriden pharmacist, Mr. Kalmanowitz was the owner of Kaye's Pharmacy and has been recognized statewide for his involvement in this community. In 1990, he was awarded the "Bowl of Hygeia" by the Connecticut Pharmaceutical Association in recognition of his community service. He served for seven (7) years as chairman of the Meriden Redevelopment Agency and was responsible for managing a $24.5 million budget. Under his leadership, the Committee completed the renovation of downtown Meriden on time and under budget. Mr. Kalmanowitz continued to serve the Meriden community by serving on the Building Committee of the new Y.M.C.A.