Hall of Fame Inductees
See our latest inductees listed below! Click on any inductee's name to learn more.
We apologize for the poor quality of some older inductee photographs. We are working to correct this as soon as possible.
Interested in submitting a nomination? Please click here to learn how »
---


John J. Doyle, Jr.
(Law/Government/Military)
1913 – 1995
John Doyle was a lifelong resident of Meriden, attended Meriden schools, graduated from Meriden High School and from the Connecticut State Police Academy. He was a member of the Connecticut State Police, retiring as a lieutenant after 27 years of service. During his career, Lt. Doyle was instrumental in introducing the polygraph machine as an investigative device for the Connecticut State Police.
He was involved in the investigation of nearly every major crime in Connecticut from 1935 to 1962. After the July 7, 1944 Hartford circus fire that killed 168 people, Doyle spent 7 months traveling with the circus to uncover the cause of the catastrophe. Doyle's reports helped make the case that sent eight circus administrators to jail for involuntary manslaughter and brought major changes to the state's fire code. Doyle also directed the investigation of the murders of a Meriden couple by Joseph "Mad Dog" Taborsky, the last man to be executed in Connecticut. In addition, Lt. Doyle helped protect dignitaries visiting in the state of Connecticut, including presidents Franklin D. Roosevelt, Harry S. Truman, Dwight D. Eisenhower and John F. Kennedy as well as the Reverend Martin Luther King, Adlai Stevenson and Chief Justice Earl Warren. He was devoted to the Connecticut State Police and worked to preserve the department's history and reputation.
Mr. Doyle was very active in the civic affairs in Meriden, especially the Lion's Club, the Elks, the Knights of Columbus and the Salvation Army.


Marjorie Cramton Tower
(Performing Arts)
1900 – 1999
For some 70 years, violinist Marjorie C. Tower devoted her time, her musical talent and her abounding energy to performing and encouraging good music in Meriden. When she arrived in Meriden about 1923 as the bride of pediatrician Dr. Arthur A. Tower, she was a highly trained concert violinist, pupil of such renowned New York City teachers of the day such as Leopold Auer. She made it her mission to foster musical life here not only as a performer and teacher, but as an advocate through her weekly column, Cadenza, in the then Morning Record, and in her frequent concert reviews. It was in one of these columns that she proposed organizing a civic symphony, which became the Meriden Symphony. She helped find the musicians and then served as concertmistress for 19 years. It was also at her prompting that the Symphony started a yearly competition for young music students, which still continues, and one of the many prizes bears her name. Until her late 70s she taught a vigorous class of violin and viola students. She maintained many other interests: family, a large circle of friends, church activities, clubs for sociability and study. As editor of the Meriden Hospital Auxiliary's Smock Brigade, her newsletter won the accolade one year of best newsletter in New England hospitals. A native of northern Vermont, Mrs. Tower wholeheartedly adopted Meriden as her home and expended her love and efforts here.
Now 98 years old, Mrs. Tower still reads the paper, remembers her friends, musical and non-musical, and remembers her years as a Meriden musical activist.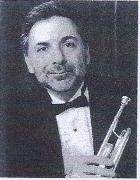 Raymond Mase
(Art)
1951 –
Born in Meriden and educated in local schools, Raymond Mase, a 1969 graduate of Platt High School, is a world-renowned trumpeter. His first music teacher was his father, James Mase. His musical talents were evident at a very young age and there was no doubt that he was destined to attain international fame. His prodigious talent and international acclaim have brought credit to his hometown of Meriden.
Without doubt the most celebrated Meriden musician since Rosa Ponselle, his rare talent as a trumpet virtuoso is recognized by music lovers and critics throughout the world. His recordings receive high praise: "This is a welcome recording that has, to my knowledge, no parallel in the brass field. Mr. Mase, one of the nation's leading trumpet soloists, plays with unwavering control, smoothness and sense of line" (American Record Guide, July 1996). "Raymond Mase has long established himself as the consummate trumpet artist – soloist, chamber player, orchestral musician, pedagogue... This compact disc recording offers a solid trumpet performance with superb musicianship" (International Trumpet Guild Journal, May 1994).
A trumpet soloist, he has appeared with the American Composers Orchestra, Boston Pops, Moscow Soloists, Naumberg Orchestra, New York Virtuosi, Orpheus Chamber Orchestra, Summit Brass, at the Bethlehem Bach and Aspen Music Festivals, and with numerous regional orchestras throughout the U.S. He appeared with the American Composers Orchestra at Carnegie Hall in March, 1994 for the premiere of Triptych, a concerto composed for Mr. Mase by David Sampson which received stunning critical praise, and which he will record this spring. Henri Lazarof's Summit Ccncertante, also written for him, was premiered in 1996 and recorded in June, 1997. He is featured as soloist on recordings by the Orpheus Chamber Orchestra, Summit Brass, the contemporary music group Parnassus, and on two solo compact discs: Trumpet in our Time and Trumpet Vocalise.
Since 1973, he has served as trumpeter with the American Brass Quintet, "the high priests of brass" (Newsweek) and has made over twenty-five recordings with the Quintet. He is also a founding member of the Summit Brass, and the New York Cornet and Sacbut Ensemble, a group specializing in the performance of early brass music on original instruments.
Mr. Mase serves as co-principal trumpeter of the American Composers Orchestra, New York City Ballet Orchestra, Westchester Philharmonic, and has performed and recorded with the New York Philharmonic, the Chamber Music Society of Lincoln Center, Speculum Musica, and Musica Sacra. In addition to his talent as a performer, Mr. Mase is known throughout the world as an educator. He is chairman of the Brass Department at the prestigious Julliard School and also serves on the faculties of the North Carolina School of the Arts, and at the Aspen Music Festival. He can be heard on over 100 recordings and as soloist on the Duetche Grammophon, Summit, Koch, Cambria and MHS labels.
A member of the Meriden Symphony Orchestra during his high school years, Mr. Mase performed as soloist with the MSO most recently in 1993, when he also generously gave of his time to teach a master class for band musicians from Platt and Maloney High Schools.
Mr. Mase lives in New Jersey with his wife Diana and their two young daughters, Allison and Natalie.


Thomas R. Rychlec
(Sports)
1934 –
Tom Rychlec is one of Meriden's greatest football players. A three-sport (football, basketball, baseball) athlete at Meriden High School, Tom excelled at both defensive tackle and fullback on the football team. He graduated in 1952 and earned athletic scholarships to Monson Academy and later to American International College. At A.I.C., Tom developed into one of the finest collegiate tight ends in the country. He was A.I.C.'s top receiver for two years and in 1956. Tom was the leading small college pass catcher in the entire nation.
Tom was selected in the N.F.L. draft in 1957 by the Detroit Lions. He opened the following season by playing in the College All-Stars game at Soldiers Field in Chicago before 70,000 fans. In 1959, Tom signed with the Buffalo Bills of the fledgling American Football League. He became a favorite receiver for Buffalo quarterbacks and caught 46 passes for 750 yards in his first year in the AFL. Tom enjoyed three successful seasons with Buffalo and then signed to play with the Denver Broncos for the 1963 season.
Upon his release, Tom returned to Meriden and excelled for the Hartford Knights and the Meriden Shamrocks, the New England Pro Conference Champions in 1965. He served as an assistant coach at local high schools and in 1990, the Meriden Sports Reunion Committee selected Tom for its "Sportsman of Distinction Award."