Hall of Fame Inductees
See our latest inductees listed below! Click on any inductee's name to learn more.
We apologize for the poor quality of some older inductee photographs. We are working to correct this as soon as possible.
Interested in submitting a nomination? Please click here to learn how »
---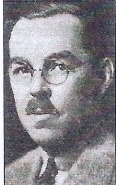 David P. Smith, M.D.
(Science/Medicine)
1889 – 1958
Born in Meriden, Conn. on May 7, 1889, Smith was the son of Dr. and Mrs. Edward W. Smith. He attended local schools. In 1910 he graduated from Yale University with a B.A. degree, and in 1912, from the Yale Medical School, with his M.D. degree. In 1917 he joined the 102nd Field Hospital as a 1st Lieutenant and served with the American Expeditionary Force in France during WWI.
After the war he returned home with the rank of Captain. He returned to the private practice of medicine as a surgeon after studying with Dr. William F. Verdi of New Haven, Conn. He was named a Fellow of the American College of Surgeons, and also served for many years as a staff member of the Meriden Hospital.
Dr. Smith was the prime mover for the establishment of the WWII Memorial Hospital on Paddock Avenue, Meriden. Later, he was to serve as its Chief of Staff, until failing health required him to resign that position.
He was the inventor of the Smith Surgical Retractor, used extensively in this country and Canada.
Dr. Smith was the first Commander of Meriden's American Legion Post 45, and a member of Meriden Lodge No. 77 A.F. In addition, Dr. Smith was an accomplished violinist, and played at many functions throughout the community.
Dr. Smith, who died on February 1, 1958, and his wife, the late Evelyn Lewis Smith, were the parents of three children – two sons, Dr. David Lewis Smith, a retired pediatrician currently living in Littleton, Mass., and the late Dr. Edward Rice Smith; and a daughter, Mrs. Bethia Smith Currie, Ph.D., a retired University of Connecticut professor, currently living in Cornwall, CT.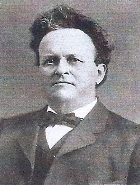 H. Wales Lines
(Law/Government/Military)
1838 – 1927
Born in Naugatuck, Conn. on June 3, 1838, and a descendant of Thomas Hooker, the founder of the Connecticut Colony, Lines attended Naugatuck schools and graduated high school valedictorian. While learning the masonry trade there and in New Haven, he taught school in Prospect and Naugatuck. Lines came to Meriden in 1862 and lived here until his death in 1927. In 1864, he formed a partnership with his uncle, Charles Perkins. The company, Perkins & Lines, did all types of masonry work and construction. In 1888, Perkins retired and Lines formed a stock company – the H. Wales Lines Co. – and served as its president. His company went on to build many of Meriden's civic buildings and fine residences. Among them were the Curtis Memorial Library (now the Curtis Cultural Center), City hall, Meriden High School (now the Board of Education building), and Roger Sherman and John Barry elementary schools; and also church buildings (First Church of Christ Scientist, St. Joseph, First Congregational, and St. Rose).
Lines was also involved in the Meriden community. Elected Mayor in 1876 and re-elected in 1877, Lines introduced the fire alarm system and two new firehouses were built. In 1879 he was elected State Senator and served two sessions; also in that year, he chaired the U.S. Senate campaign of Meriden's Orville H. Platt. Lines also directed the campaign which resulted in the nomination of Meriden's Abiram Chamberlain for governor of Connecticut. Lines belonged to many organizations, including the Home and Colonial Clubs, Meriden Historical Society, Connecticut Society, Sons of the American Revolution, Meriden YMCA, Meriden Board of Trade, and others. He was a Grand Commander of the Masonic Order of St. Elmo Commandery of Meriden.
On June 23, 1861, he married Sara Munger of Waterford, Conn. The couple had four daughters: Harriet Louisa, Sarah Lavinia, Clara Belle, and Ellie Munger Lines. H. Wales Lines died on January 11, 1927.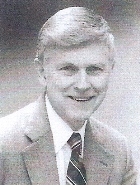 Raymond E. Donovan
(Community Service)
1930 – 1997
Born in Lowell, Massachusetts on June 12, 1930, Donovan was the son of Raymond E. and Gertrude H. Donovan. He graduated from Keith Academy, Lowell, and Holy Cross College, Worcester, Mass., earning a Bachelor's degree in English. He later attended the Public Utility Executive Program of the University of Michigan. Donovan came to work for CL&P (later known as Northeast Utilities) as a copywriter in Waterbury. He came to Meriden in 1956, and rose through the ranks at the utility company, retiring in 1990 as Vice President of Marketing and Consumer Services.
For more than 40 years, Donovan volunteered his services in many civic, community, and church-related organizations in Meriden and the region. Among them were: United Way of Meriden and Central Connecticut, Meriden Redevelopment Agency, Board of Public Works, Meriden Public Library Board; President, Meriden VNA, Mental Health Association, Conn. League of Nursing, Conn. Hospital Association; President, Curtis Home; Chairman, Governor's Council of Youth Opportunities; and member, Cuno Foundation Board.
Donovan served for more than 30 years as a volunteer at the Meriden-Wallingford Hospital/VMMC (now known as MidState Medical Center). He was a member of the hospital's public relations, planning, and fundraising committees, as well as a founding member of its Prostate Cancer Support Group and the National Coalition for Prostate Cancer. He was instrumental in forming the Conn. Health System, the merger between Meriden-Wallingford Hospital/VMMC and MidState.
Donovan and his wife, the former Mary T. Kelley, established the Family Health Information Center at the Meriden Public Library in 1996. He was also involved in religious activities in the Archdiocese of Hartford, serving as a member of its CCD Advisory Board and the Foundation for the Advancement of Catholic Schools. He was president of the Conn. Bible Society, the second oldest Bible Society in the U.S.
Donovan and his wife have four children – Raymond, Mark, Reverend Kevin Donovan, and MaryJean Higgins – and six grandchildren. He died on October 26, 1997.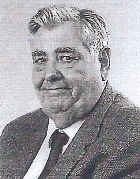 Warren A. Sattler
(Art)
1934 –
Born in Meriden on September 7, 1934, Sattler attended Meriden schools and graduated from Wilcox Technical School in 1952 and continued his study there for another year in ornamental design. He served in the U.S. Air Force from 1953-1957. Sattler did cartooning for Air Force publications, and gradually built a reputation in the world of comic books. Over the years his work appeared in Marvel Comics, D.C. Comics, and the Charlton Press. Sattler then was employed in the advertising department of the International Silver Co., and also worked as a freelance cartoonist. Sattler decided to become a cartoonist when he was 11 years old and a devotee of comic strips such as "Terry and the Pirates." When he was 15, his cartoons were first published in the Meriden Record-Journal. Sattler's art has also appeared in books: Animal House, Great Moments in Hysteria, Snooze, The Book of Sequels, and National Lampoon's Tenth Anniversary. His cartooning credits also include magazines: Premiere, The New York Times, National Lampoon, Playboy, Life, and Spy. Sattler's comic strip art credits include Gil Thorpe, Hi and Lois, Comics for Kids, Barnaby, The Jackson Twins, and Sattler's own strips, Swamp Brats and Grubby. One of Sattler's most memorable strips was "Yang," the Kung Fu western strip written by Joe Gill.
A former member and supporter of the Cartoonists' Society, Sattler also worked at a variety of other freelance assignments and with the Famous Artists' School, Westport, Conn. In addition, he went to Nashville, Tennessee, where he made an album of his songs. In 2001, he was voted into the Connecticut Country Music Hall of Fame. Sattler, a resident of Meriden, is the father of five children – Steven, Marc, Craig, Casey and Cindy. He has 12 grandchildren.