Hall of Fame Inductees
See our latest inductees listed below! Click on any inductee's name to learn more.
We apologize for the poor quality of some older inductee photographs. We are working to correct this as soon as possible.
Interested in submitting a nomination? Please click here to learn how »
---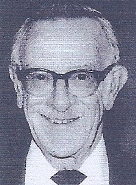 Roger W. King
(Community Service)
1920 – 2000
Roger King was born in Meriden, Connecticut, and was a lifelong resident. He graduated from Meriden High School in 1938 and went on to the University of North Carolina for a B.S. in Industrial Engineering. Roger served in the United States Army, after which he returned to Meriden, where he worked for New Departure Division of General Motors. Later he was hired by the Charles Parker Company in their hardware sale division, where he worked until he founded his own manufacturer's representative firm, the R.W.King Company in 1953, which he operated until 1982.
In. 1977 along with his wife Jean and son Bill, King Travelways was established. The company was incorporated in 1982, at which time Roger joined the travel agency full time as Secretary and Treasurer. In 1992 King Travelways purchased the Charter Oak Hose #1 building in downtown Meriden, also known as the Butler Street Fire Station built in 1876, which became the home of the travel agency. In 1994 the building was granted certification to be listed in the National Historic Preservation archives.
Roger King served as a volunteer on many Meriden committees and boards. He was President of the Meriden Boys' Club from 1970 - 1972, as well as at the state and national level. The Meriden Boys' Club's "King Youth Soccer League" continues to perpetuate his memory. Other activities were part of his volunteer career: Chairman of the Meriden Tourist District and the Meriden/Wallingford Tourist Council, member of the Meriden Draft Board, the American Silver Museum, the Meriden Cemetery Association, MRP Chapters 2954 and 4644, Pride of Meriden Committee, Helping Elderly People Group, Friends of the Meriden Library, and the Meriden Historical Society. He was a charter member and president of the Tri-Town Golden K Kiwanis, flag-bearer for the Lancraft Fife and Drum Corps, and the Daffodil Festival Committee. One of his favorites was as "The Kingfisher" of the Outdoor-Indoor Athletic Club, which met in his basement every Sunday morning.
The history of baseball was another consuming interest, and Roger authored and published a book in 1978 titled Connie Mack's First Pro Game. Connie Mack, also known as Cornelius McGillicuddy, was born in Meriden. Roger King was a founding member of the Meriden Hall of Fame.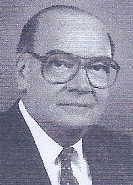 Vincent Pepe, M.D.
(Science/Medicine)
1922 – 2009
Vincent Pepe, MD, an extremely prolific and extraordinarily well-loved obstetrician-gynecologist, delivered more than 13,000 babies during six decades of practice in the Meriden-Wallingford area. Dr. Pepe also helped to forge the use of pre-natal folic acid to prevent birth defects, and he later pioneered the development of urological gynecology.
He was born in New Haven on March 15, 1922, and was a graduate of Yale University (1944) and the Yale School of Medicine (1946). He was not only an exceptionally skillful and inexhaustible physician, but he was also a brilliant, well-read, and forward-thinking man of great compassion, wit, and steadfast nature who energetically dedicated his life to the many thousands of patients whom he served, day and night, during his extensive life-saving medical career. He was still very active in patient care, even into his final year of life. Among numerous accomplishments, he helped to advance surgical treatments for urinary incontinence for women, as well as laparoscopic operative techniques and ultrasound procedures in community based ob-gyn practice.
The son of Italian immigrant Pasquale Pepe and Carmela Scala Pepe, he was a veteran of the U.S. Army-Air Force and served as a flight surgeon in Japan. He was a Diplomate of the American Board of Obstetrics and Gynecology and the American College of Surgery and was a life member of the American Society of Abdominal Surgeons. He was a member of the American College of Obstetricians and Gynecologists, the Connecticut Medical Society, and the Meriden Medical Society. He was active in community and church activities such as the Unison Club, the Elks Club, and Holy Angels Roman Catholic Church.
Among his scientific publications were groundbreaking papers that advanced the field of urogynecology (e.g., American Journal of Obstetrics and Gynecology 1976; vol 47:255-264 and the Journal of Urology 1980; vol 124:256-258).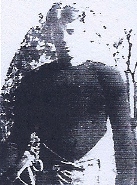 William G. (Bill) Scully
(Sports)
1910 – 1975
William G. (Bill) Scully, 1910 - 1975, was born in Meriden, Connecticut. Bill attended St. Rose School, St. John's Prep School, Meriden High School (class of 1929), and Gettysburg Academy, Pennsylvania, 1929 - 1930. Bill played semi-pro baseball and football in Meriden and the surrounding area from 1930 -1942.
Bill Scully was arguably the best and most outstanding all around athlete of his era, in both scholastic and semi-pro sports, specifically in baseball, football, and basketball. He lettered in all three sports at Meriden High School and was captain of the 1928 and 1929 football team. He was a high profile quarterback and pitcher/infielder and a prolific punter and drop kicker. Bill Scully was the quarterback on the 1927 Meriden High School "Class B" championship team.
Bill Scully was well known throughout the State of Connecticut and the surrounding states to a lesser degree. He was a star football player at Gettysburg Academy from 1929 - 1930. He was also a star player in a football game against the Providence Steamroller pro team in Providence, Rhode Island. He received an invitation to visit Notre Dame University from Knute Rockney himself. Bill was very well known in the sports fraternity and the police law enforcement community.