Hall of Fame Inductees
See our latest inductees listed below! Click on any inductee's name to learn more.
We apologize for the poor quality of some older inductee photographs. We are working to correct this as soon as possible.
Interested in submitting a nomination? Please click here to learn how »
---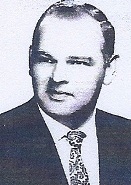 Benjamin P. Nessing, Sr.
(Education)
1930 – 1973
Benjamin P. Nessing was born in Meriden on January 26, 1930, and lived in Meriden until his death in 1973. As a graduate of St. Stanislaus School and Meriden High School in 1948, he went to New Haven Teachers College, now Southern Connecticut State University, graduating in 1954.
Ben was the first recipient of the Polish Falcon Alumni Scholarship in 1948. In college he excelled in football and was offered a position playing professional football for the Chicago Cardinals football team. He began his teaching career at South Broad Street School, now Eli Whitney. In 1958 he transferred to Maloney High School where he taught health and physical education. Ben was a coach at Maloney, who specialized in football, basketball, and baseball and subsequently became the athletic director in May of 1962 until his death.
Following his death in August of 1973, the City of Meriden named Nessing Field on Murdock Avenue in his honor. The Maloney High School Senior Class of 1973 named the school's gymnasium after him, along with the dedication of their yearbook in memory of the man whose outstanding character had been, is, and will continue to be a great inspiration to all he knew.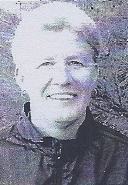 Bonnie Jean Kenny
(Sports)
1962 –
Bonnie Kenny was born on March 7, 1962 in Meriden, Connecticut. She attended Maloney High School and lettered in volleyball, basketball, and softball from 1976 - 1980 and won four state volleyball championships! In 1999 she was inducted into the Connecticut Scholastic Women's Volleyball Hall of Fame and in 2005 into the Maloney High School Hall of Fame. She graduated from the University of Tennessee in 1984 and received her BS in Education. She was a Lady Vol three-time captain, four-time letter winner, two SEC championships, three NCAA tournaments, and a four-year career record of 137 - 56. In 1983 she received the Academic All-American and All-SEC honors. Ms. Kenny was a Tennessee scholar-athlete from 1980 - 1983 and was inducted into the Tennessee Lady Vol Hall of Fame in 2006.
Upon graduation in 1984, she was hired by the University of South Carolina and yielded a Metro Conference title with a record of 21 - 8 and an NCAA tournament berth. In 1993 the University of Massachusetts hired Ms. Kenny; she led the team to three 20-win seasons, four semi-final A-10 tournament appearances, and two trips to the National Invitational Volleyball Championships (NIVC). She was on the American Volleyball Coaches Association Board of Directors from 1999 - 2008 and was the AVCA President from 2006 - 2008. She co-authored Volleyball Steps to Success, published by Human Kinetics in 2006. This year Ms. Kenny has completed her ninth season of coaching at the University of Delaware. In the past three seasons, she guided the team to consecutive Colonial Athletic Association tournament championships in 2007, 2008 and a CAA regular season co-championship in 2009. In 2004, 2007, and 2008 she was Conference Coach of the Year.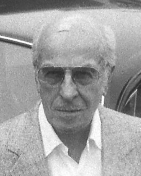 Frank E. Davella
(Philanthropy)
1911 – 1996
Frank E. Davella was born in New Britain, Connecticut, on October 11, 1911. He was a resident of Meriden for most of his life and attended Meriden schools. He began his long and distinguished business career in Meriden.
In 1951 he started Davella Volkswagen dealership, purchasing Volkswagens from importers in New York, making him one of the oldest Volkswagen dealers in the United States. The Volkswagen, once revered solely for its reliability and economy, was later beloved for its odd shape. Over the years he garnered numerous industry awards for sales, customer satisfaction, and service.
Upon his death, Mr. Davella left the bulk of his $3 million plus estate to the Cuno Foundation in a trust that became the Frank Davella Educational Fund, granting scholarships to high school students going on to further their education. From 1998 to 2009 the Davella scholarship fund has awarded $2,526,000 in scholarships to young people from Meriden and surrounding communities.

George C. Carabetta, Sr.
(Business & Commerce)
1925 – 2019
George C. Carabetta was born in Meriden, Connecticut in August 1925 being the youngest son in a family of twelve. He attended Meriden schools until 1942 when he was drafted in the United States Marine Corps. As a member of the Third Marine Division, Mr. Carabetta fought in battles on Guam and Iwo Jima, where he was awarded the Purple Heart. Upon his discharge at the end of World War II, he returned to Meriden to work at Carabetta Florist, his family's business. In 1947 he married Carmela Nigro, and his family soon expanded with the birth of their two sons. With the assistance of his wife, sons, and very close friends, he built Carabetta Florist into one of the largest wholesale growers of carnations in the Northeastern United States.
In the 1960s Mr. Carabetta was one of the earliest businessmen to recognize the importance of waste oil recycling. He began purchasing and collecting waste oil to burn in the greenhouse boilers. In 1976 he established United Industrial Services for collection and recycling of waste materials. In 1982 the family operation offered the use of its boilers to EPA to help establish emission standards for the burning of used oil. In 1992 EPA again recognized the innovation of the business and studied the Meriden facility for the development of national effluent standards for the Centralized Waste Treatment Industry. Today, United Industrial Services provides multiple services in conjunction with recycling for a sustainable environment. The company is headquartered in Meriden and serves the Northeast, employing several hundred employees.
In addition to his past business activities as past president of the Southern New England TelefloraAssociation and the Meriden Florist Association, Mr. Carabetta continues to volunteer his time and service to the Meriden Junior Chamber of Commerce, the Meriden Lions Club, Miller Memorial Community, Meriden Unison Club and Our Lady of Mount Carmel Church.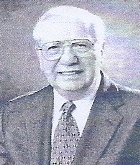 Matthew P. Campione, M.D.
(Science/Medicine)
1925 – 2006
Matthew P. Campione, M.D. was born February 27, 1925, in New York City. Dr. Campione was a U.S. Army Veteran who attended New York University and did his graduate studies at the University of Lausanne in Switzerland.
He moved to Meriden in 1966 and was one of the founders of CBS Surgical Group. Dr. Campione served as chief of staff of Meriden-Wallingford Hospital from 1977 to 1982. He retired in 1990. Dr. Campione loved to teach and was anxious to share his knowledge with his colleagues. He is credited with bringing an intensive care unit to Meriden-Wallingford Hospital when there was none and specializing in oncology before the specialty became predominant. Dr. Campione was very active in the city's cultural scene, serving as benefactor and patron for various art groups around the community. He was a member of Meridian Lodge No. 77, AF & a.m., and was made an honorary 33rd degree Mason in September 2000. He served on the board of directors of Masonic Healthcare Center. In 2005 he was honored with the Crystal Obelisk Award from Midstate Medical Center in recognition of his distinguished contribution to the advancement of healthcare delivery systems in his community. Dr. Campione remained active in the Meriden community until his death on October 29, 2006.