Hall of Fame Inductees
See our latest inductees listed below! Click on any inductee's name to learn more.
We apologize for the poor quality of some older inductee photographs. We are working to correct this as soon as possible.
Interested in submitting a nomination? Please click here to learn how »
---

Martha Minerva Franklin
(Science/Medicine)
1870 – 1968
Martha Minerva Franklin was born in 1870 in New Milford, CT., moved to Meriden at the age of 5 when there were few people of color living in the city. She graduated Meriden High School, and in 1897 graduated from the Women's Hospital Training School for Nurses of Philadelphia, as the only African American in her class. She returned to Meriden and worked as a private nurse before relocating to New Haven. Ms. Franklin experienced the challenges of discrimination and segregation that many blacks faced in 1908 and handwrote 1,500 letters inviting black nurses to organize a national professional organization. In 1908, 52 nurses gathered in New York and founded the National Association of Colored Graduate Nurses (NACGN) with Franklin as its first president." The NACGN grew to 2,000 members by 1921. The NACGN merged with the American Nurses Association in 1951, but it is considered a forerunner of today's National Black Nurses Association. In the 1920's She became a registered nurse in New York at Lincoln Hospital, She later worked as a school nurse in New York City and enrolled at the Teachers College at Columbia University. Ms. Franklin has been inducted into the Connecticut Women's Hall of Fame (2009) and the American Nurses Association's Hall of Fame (1976) as a member of its first class of inductees, and a permanent tribute stands at MidState Medical Center (2005). She is revered nationwide as a pioneer, advocate and change agent for black women in the nursing field. She worked tirelessly to end discrimination in nursing and through leadership, perseverance and courage, demonstrated the need for equality among nurses. She died unmarried at the age of 98 and is buried in Meriden's Walnut Grove Cemetery.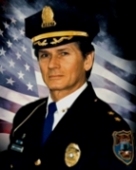 Robert E. Kosienski,Sr.
(Law/Government/Military)
1934 –
Robert E. Kosienski Sr., born in 1934 and has lived his entire life in Meriden. First graduating Saint Stanislaus Parochial School and then Meriden High School, Class of 1952. He began a 40-year career with the Meriden Police Department in 1961 as a patrol officer, promoted to Sergeant in 1968, Lieutenant in 1979 and Chief of Police in 1985 which he held until his retirement in 2001. He graduated from the Meriden Police Officers Training program, Ct. Police Chiefs Academy and earned an Associate's Degree (Cum Laude) in Police Science and Administration, Mattatuck Community College. Chief Kosienski has attended numerous courses and seminars with the FBI, National Law Enforcement programs at University of Delaware, Babson College, UCONN., Northwestern University and Middlesex Comm. Colleges. He developed a proactive philosophy to policing after travelling to Flint Michigan to observe and participate in the Community Policing concept. This proactive approach was brought to Meriden where he reinstituted the walking beat through community policing, introduced the very popular DARE program to the elementary and middle schools, established the School Resource Officer program in the Middle and High Schools and developed the departments first Citizens Police Academy for Meriden. He also reestablished the SWAT team, created the Sex Crimes Division and brought the department up to modern standards with improved firearms and equipment. He attained recognition for the Meriden Police Departments professionalism in handing the events of the 1981/1982 KKK rallies in Meriden. Each January, Chief Kosienski is involved with the yearly commemorative ceremony for "Baby David Paul", a newborn who was abandoned at birth. He has been President of the CT. Police Chiefs Association, current member of the Board of Directors of the CT. Police Chiefs Law Enforcement Foundation, Chairman for the Annual CT. Police Memorial Ceremony since 1988 and Lifetime member of the CT. Police Chiefs Assoc., New England Chiefs of Police and International Assoc. of Police Chiefs. Chief Kosienski received the Henry C. Lee Institute of Forensic Science Award in 2001.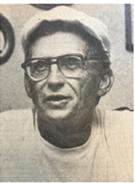 Winton (Wint) Filipek
(Sports)
1925 – 2005
Winton (Wint) Filipek was born in Meriden on May 18, 1924 and died on June 4, 2005. While tennis is the sport that he found success, he also showed athletic skills in baseball, bowling, and basketball. As a student in the 1930s at St. Stanislaus School, his first tennis court, the Crescent Street Courts, became the practice area leading him to his Meriden men's singles title at age 15 in 1939, and again in 1940 and 1949. During the late 1950s and early 1960s he teamed with many of Meriden's championship caliber players to dominate the local tennis scene. In the 1970s he teamed with his son, Wint Filipek Jr., to win four consecutive Meriden-Wallingford Championships. In addition, he paired with his daughter Kathy, to garner the Meriden mixed doubles title in 1972. Wint was proud to mention, in passing, his exhibition match with Lois Felix, Meriden's own nationally ranked tennis player, and an inductee in the Meriden Fall of Fame. Today the tennis courts at Washington Park carry a plaque honoring him in recognition of his long service to the city and his many accomplishments. Wint also wanted to be known as a baseball player. When he wasn't honing his tennis skills he could be found on the baseball field. For 37 years, he worked for the International Silver Co. and like many of his fellow post-wartime athletes, worked by day and played ball at night for the INSILCOs., When Connie Mack and his Philadelphia Athletics returned to Meriden on July 1, 1947, Wint was playing third base, just in front of one young Jimmy Piersall (Boston Red Sox1950). Wint was a very well-known and respected athlete in the Meriden area. In 2005 his family created the Wint Filipek Sr. Memorial Tennis Tournament, awarding over $131,000. to date with scholarships to deserving student-athletes in Connecticut. In 1993 Wint was presented the Sportsman of Distinction Award, the introduction into the Meriden Sports Hall of Fame.