Hall of Fame Inductees
See our latest inductees listed below! Click on any inductee's name to learn more.
We apologize for the poor quality of some older inductee photographs. We are working to correct this as soon as possible.
Interested in submitting a nomination? Please click here to learn how »
---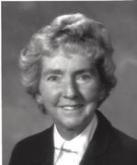 Amelia Mustone
(Law/Government/Military)
1928 – 2019
Amelia P. Mustone was born in 1928 in Salem, Massachusetts, and moved to Meriden in 1960. Amelia has been a leader who was "ahead of her time". Prior to her terms in elected office, she was active in community organizations where she advocated for social justice, educational equality, and the importance of a strong local government. She served as President of the League of Women Voters and as a member of the NAACP. Amelia was a non-traditional student but a life-long learner. Fittingly, her formal start in politics came with her election as president to the Meriden Board of Education from 1974-1978. She completed her Bachelors' degree during her service in the Connecticut Senate. She also completed prestigious leadership programs at the Kennedy School of Government at Harvard University.
Amelia was a pioneer on so many levels and brought great pride and prominence to the City of Meriden while serving in the Connecticut Senate, representing the 13th District. She served eight (8) terms in the Connecticut Senate (1978 – 1994). During these years she was the Deputy Majority Leader and was a trailblazer for women in politics. Amelia was a respected member of the local and state Democratic party and often was noted for her ability to "reach across the aisle" while serving in the Senate. Amelia later became an advocate for the Arts and was a member of the Connecticut Commission on the Arts. In 1994 she was selected to co-chair the Select Committee on Children because of her strong advocacy for children's issues. Amelia garnered national notoriety as a member of the National Conference of State Legislators and chaired numerous committees at the annual convention. She was a member of the New England Board on Higher Education, Connecticut Student Loan Foundation and Meriden Junior Women's club. While doing so she maintained a busy household of six children and remained a dedicated citizen of her adopted city of Meriden.
After her retirement from the Connecticut Senate, she continued to be an active citizen of Meriden, working to support a number of critical local initiatives including the Augusta Curtis Center, the Meriden Democratic Town Committee, and as a volunteer with the Meriden Humane Society and the St. Mary's Women's Guild. She has been further blessed by her nine grandchildren, truly a role model for her life in service to her community. She passed away in 2019 in Meriden CT.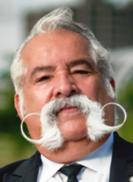 Hector Cardona Sr.
(Community Service)
1954 –
Hector M. Cardona Sr. was born in 1954 in Aguada, Puerto Rico and came to Meriden at age 7. He attended Maloney High School and the Meriden Police Academy. Officer Cardona joined the Meriden Police Department in 1983 and retired after 31 years of service in 2013. He was one of the first officers assigned to the community police division then known as Neighborhood Foot Patrol in 1986 where he eagerly accepted assignment at the Mills Memorial Housing Project despite it being at the height of gang activity. As a police officer, Hector volunteered to do outreach, informally, to Meriden students, holding assemblies to discuss pertinent issues, such as gangs, drugs and promoting community service, safety and good decision making. Hector has also earned numerous merit awards and was a nominee for the State of CT. Hispanic Police Officer Award. He was chosen as outstanding Hispanic police officer representing the Meriden Police Department at the Puerto Rican Parade in Bridgeport in the late 90's.
He also served as a Field Training Officer and Hostage Negotiator for the department and fulfilled the role of External Affairs Officer and Honor Guard Commander. As the Choir Director at St. Rose, he founded the youth choir and worked with Hispanic church members interested in bringing Spanish worship music to their church services throughout the state. These efforts led to the development of Spanish Choirs in several thriving Hispanic church communities in Wallingford, Middletown, Bristol and as far as Willimantic CT. He was also the Meriden Hispanic Advocate to the Hartford Roman Catholic Archdiocese. He has given his time for the betterment of Meriden through committees and boards such as the Human Rights Advisory Board, YMCA board, MidState Board of Governors and Board of Directors, co founder of the Meriden Hispanic Foundation, Puerto Rican Festival Committee Chairman and many other committees. Through his volunteerism, his help to others without any interest in acknowledgement or praise, and his contagious pride for Meriden he has become an unofficial ambassador to the Hispanic community. He received the Jaycees local award and was selected as a Jaycee State Award Winner. Hector also founded the well known Cardona Family Band, currently in its third generation, which volunteers art convalescent and nursing homes statewide and performs at various venues and benefit functions in CT. He serves as a disc jockey for a Saturday morning radio show where members of the greater CT area call his show regularly. Calls come in from as far away as Massachusetts, Florida and Puerto Rico. He was awarded the 2010 Shining Star Award from the Meriden Chamber of Commerce. Most recently, in 2017 he was the Grand Marshall at the Meriden Daffodil parade. He is also a Justice of the Peace.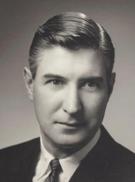 Robert .D. McNulty
(Business & Commerce)
1927 – 2020
Robert D. McNulty was born in Meriden in 1927. Bob attended Meriden Schools, and graduated from Meriden High School. After his military service during WWII in the U.S. Navy Bob attended the University of Niagara where he graduated in 1950, Magna Cum Laude. After college, He worked for the John F. Molloy Co., for nine years. In 1962 Bob was named the Deputy Director of the Meriden Redevelopment Agency (MRA) and in 1966 he was appointed Executive Director of the Meriden Housing Authority (MHA). Bob spent the next 18 years improving housing opportunities for Meriden's low income and Elderly; Among his many accomplishments, he considers the following as major: Community Towers, Willow St.; Rehabilitation of the Willow Court Apartments; the sale of Chamberlain Heights to the Federal Govt.; the sale of single Family houses to the then current residents; the development of Harbor Brook Towers; and the relocation of the MHA offices to a central Downtown location. After retirement from the MHA IN 1984, Bob became an independent contractor for "Freddie Mac". Bob has been continually involved with his Hometown, through his Church, Jaycees, Elks Club, and other volunteer organizations. Bob was president of the CT National Association of Housing and redevelopment officials (NAHRO). His MHA involvement led him to various National levels of the Housing Industry, including being the First Chair of the National NAHRO Professionals Committee and being elected to the National NAHRO Board of Directors.